Find out more
pink marquise
Marquise Pink Diamond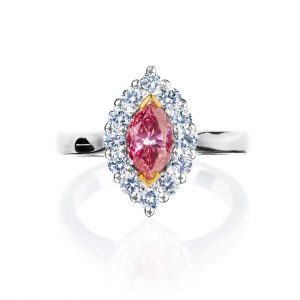 ARGYLE PINK DIAMOND

This is one of the most important diamonds ever mined at Argyle. If it were not for the discovery of this diamond in the original valuation samples, it is possible the Argyle Diamond mine would never have achieved financial backing. That original rough pink diamond was purchased by one of the directors of Ashton, William Leslie. The company that discovered the mine, plus the Ellendale and later the Merlin mine, was led by Ewen Tyler OA.
This is probably the first-ever +1ct vivid pink Argyle diamond mined. At that time the mine had not even been named Argyle!
There are declarations of this diamond's provenance from Bill Leslie and Ewen Tyler. Both elderly but still alive and well and happy to confirm by phone or email all that is stated here. Bill sold the diamond to me years ago.


Sparkliologist, BSc, FGAA,
Dip Diamond Technology Reg'd Valuer 161

STONE DETAILS

Carat Wt: 1.03
Cut: Marquise
GIA colour intensity: Fancy Vivid
GIA colour modifier: Pink

IMAGES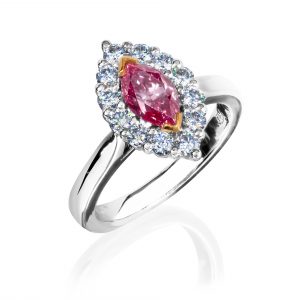 2022
Available for sale at Holloway Diamonds
This incredible jewel maintains its outstanding beauty in both a white and yellow gold setting. It has been beautifully reset by a Holloway Diamond Master Jeweller in a white gold setting to set off the vivid pink of the 1ct stone.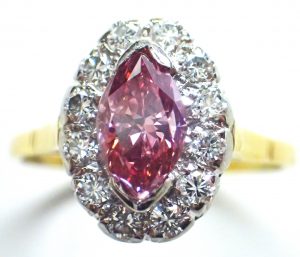 Original Setting
William Leslie set the beautiful marquise into a halo of white diamonds. The original shape of the setting was maintained as it complimented the marquise shape.