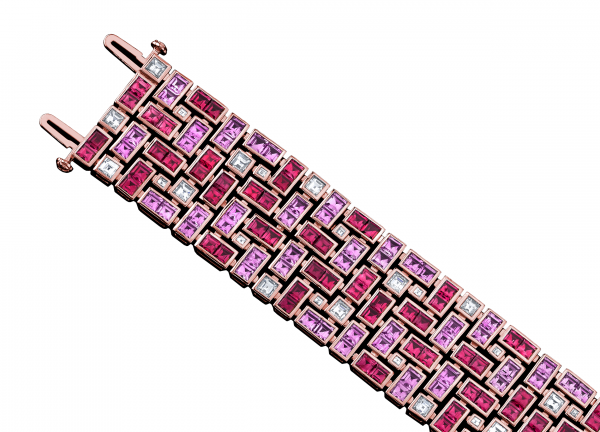 Robert Procop – Ruby & Pink Sapphire Bracelet
This special Robert Procop 'Masterpiece' bracelet is handcrafted using 18K Rose Gold and all exceptional, natural Ruby and Pink Sapphires that are individually cut by hand. You will notice, when unclasped, the bracelet is very flexible and has a softness to it. When the bracelet is secured to the wrist, the hinges are uniquely crafted in a way that tightens the bracelet to give a bangle like quality. Because it's in a bangle form with softer gold of rose it requires care when placing on & off the wrist. These hinges are meant to lock in place when worn.
HCA | Ideal–Scope | ASET
THE HOLLOWAY DIFFERENCE
All Holloway diamonds above 0.70ct are GIA certified. All diamonds we sell, including the small ones, in addition to a GIA cert also pass the HCA and Ideal-Scope test.
HCA – Determines the diamond cut quality, potential to sparkle and its size relative to an average diamond of the same carat weight.
Ideal-Scope – Determines diamond light leakage.
ASET – Determines fancy shape diamond light leakage.
Need help? Book a virtual appointment.