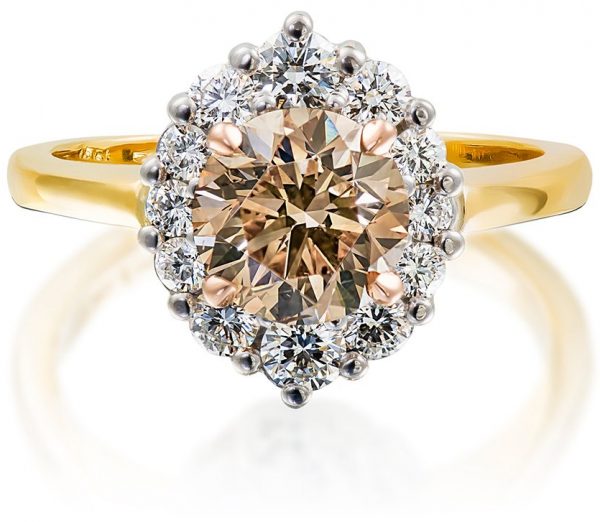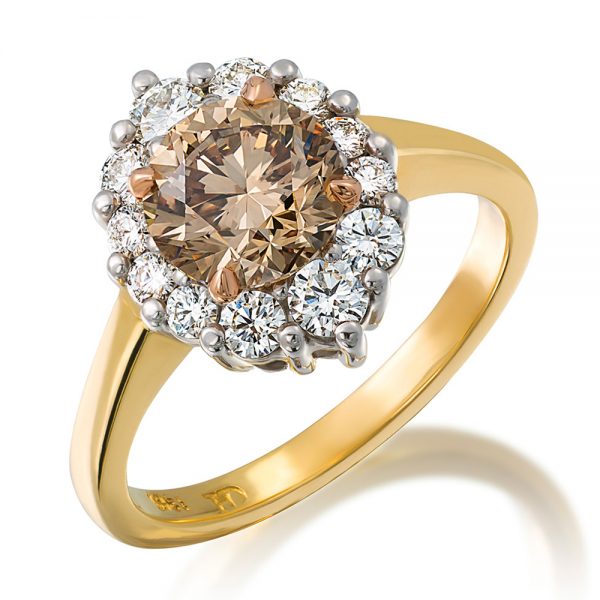 Champagne & White diamond cluster ring
This ring has a 1.41ct Argyle Champagne Ideal cut C8 SI2 diamond surrounded by white Ideal cut diamonds is a winning style.
The hand made cluster has a point at each end. We can make this ring in a variety of diamond sizes and hues. Argyle diamond mine is closing at the end of 2020. The other main source of champagne diamonds is Russia and they are olive greenish-brown and just not as nice are the rusty Argyle tones. It is also very hard to find superbly cut and polished Argyle champagne diamonds; they are hard to polish for all sorts of reasons.
We have a great guy who gets the pick of the rough diamonds from Argyle and manages a first-class manufacturing business. Not the cheapest but definitely the best. We have been working with him since 1995!
HCA | Ideal–Scope | ASET
THE HOLLOWAY DIFFERENCE
All Holloway diamonds above 0.70ct are GIA certified. All diamonds we sell, including the small ones, in addition to a GIA cert also pass the HCA and Ideal-Scope test.
HCA – Determines the diamond cut quality, potential to sparkle and its size relative to an average diamond of the same carat weight.
Ideal-Scope – Determines diamond light leakage.
ASET – Determines fancy shape diamond light leakage.
Need help? Book a virtual appointment.