This lush green stone dates back as early as 330BC. Cleopatra was known to have a passion for emeralds and used them in her royal jewellery adornments. Over the past four decades, Holloway Diamond rings have been set with some of the most beautiful cut emerald stones. Contact us to view our emerald stone collection.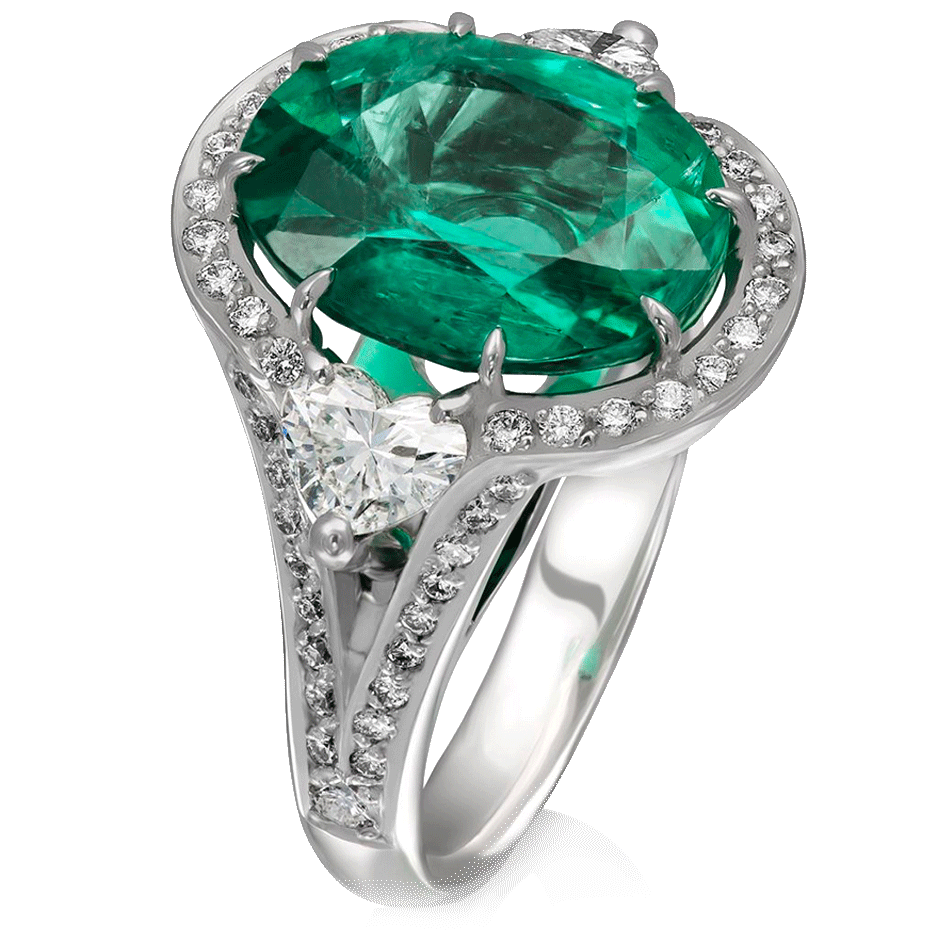 First Tab - do not remove
Emerald Collection
With its stunning green hues, emerald is a timeless gem that exudes quiet elegance. Emerald jewellery is great to add to your collection. You can shop our collection of emerald rings, earrings, necklaces, bracelets, and more. The emeralds come set in yellow gold, rose gold, white gold, silver, or other precious metals. Learn more about emerald jewellery and how to find the best emerald for you.
What does emerald symbolise?
Emeralds have multiple meanings. Emerald is famously known to symbolise true love; it was a common offering to Aphrodite. Emerald is also associated with the heart chakra, which promotes emotional and physical healing.
In Vedic astrology, emeralds are related to intelligence in education and creativity. It was even believed that if you put an emerald on your tongue you could see the future and become a more eloquent speaker.
The green colour of emeralds is also connected to themes of nature, such as growth, fertility, and renewal. The emerald hue is also said to be therapeutic and a good stress reliever.
The symbolism of emerald rings can make it a great choice for gifts and special occasions. People often use emeralds in engagement rings, wedding rings, and eternity rings. 
Is emerald jewellery valuable?
Emerald is one of the 'big three' of precious gemstones, alongside rubies and sapphires. Emerald is one of the most valuable stones on earth. Emeralds are incredibly rare due to the unique circumstances needed to form them–although they're mined all over the world, it's not common to find such high-quality or large gems. Plus, depending on each stone's mineral makeup, the emerald colour can vary from a light, aquamarine blue to a vivid, bright green, with the latter being more valuable. 
Emerald becomes even more valuable when used in jewellery pieces because it gets set in silver or gold. You can find emeralds in everything from gold bangles and gold earrings to silver rings and silver bracelets. If you are looking for emerald jewellery, Australia can be a great place to shop for and find beautiful emerald pieces.
Is emerald cheaper than diamond?
Emeralds are more scarce than diamonds (more than twenty times rarer!), so they often command a higher price tag than diamond jewellery. That said, emerald is the ideal option for those who'd like to maximise the size of their stone within their budget, as these coloured gems are less dense, so they appear larger than diamonds of the same carat weight. If you are debating diamond ring or emerald ring, the emerald ring can be a great jewellery option. You can also find lab grown emeralds but synthetically created emerald can be just as expensive as natural emerald, since they don't grow fast.
Read more about how much are emeralds worth.
What is the best emerald to buy?
Similar to diamonds, emeralds are evaluated based on the four Cs: colour, clarity, cut, and carat. Of the four, colour bears the most weight. Emeralds are assessed by hue, tone, and saturation. The more bright and vivid green the emerald is, the more valuable it is. Additionally, the clearer (i.e. the least inclusions) the emerald and the larger it is, the better—and more expensive.
Emeralds are usually cut in an emerald cut, which follows a horizontal shape. They also come in round or oval shapes, which can be pricier, as more is cut off from the rough stone. Emeralds are completely worth the price tag as they complement silver and gold jewellery beautifully. 
Which is better: light or dark emerald?
Emeralds range from deep green to pale green hues. Those with medium to medium-dark tones are the most prized and expensive jewellery. Though deep green gems are preferred, if the colour becomes too dark and close to black, the gem's value goes down. Still, some people prefer lighter emeralds because they reflect more light. 
Can I wear emeralds every day?
You can wear emeralds every day; however, you need to be extra careful with them. Though they're durable, they're softer than most gemstones. If you wear the emeralds placed in engagement or wedding rings, you'll want to be extra careful. Plus, because they're treated with oil, it's best to keep them away from extreme heat or else they can potentially be damaged. 
Emeralds can be placed in a ring, necklace, bracelet, or other pieces of jewellery. Emerald pairs nicely with gold and silver settings to create bespoke jewellery pieces. Emeralds can be given as gifts on a special occasion such as a wedding or engagement. You can shop our collection of jewellery to find the perfect piece, and our jewellers are here to help if you have any questions. 
With so many jewellery options on the market ranging from gold chains and gold rings to diamond earrings and diamond necklaces, it can be hard to choose the perfect piece of jewellery. But you can never go wrong when you choose emerald rings or other jewellery pieces from Holloway Diamonds.