At Holloway Diamonds, you will find the perfect engagement ring or you can easily create your own unique custom designed engagement ring and wedding ring. Whether you have an idea in mind or a picture to work with, our jewellers will assist you in creating a unique engagement ring that reflects you.
All of our diamonds are hand-selected and all stones over .7 carat have a GIA report. In addition, all of our stones must also pass the HCA test and the Ideal Scope selection process.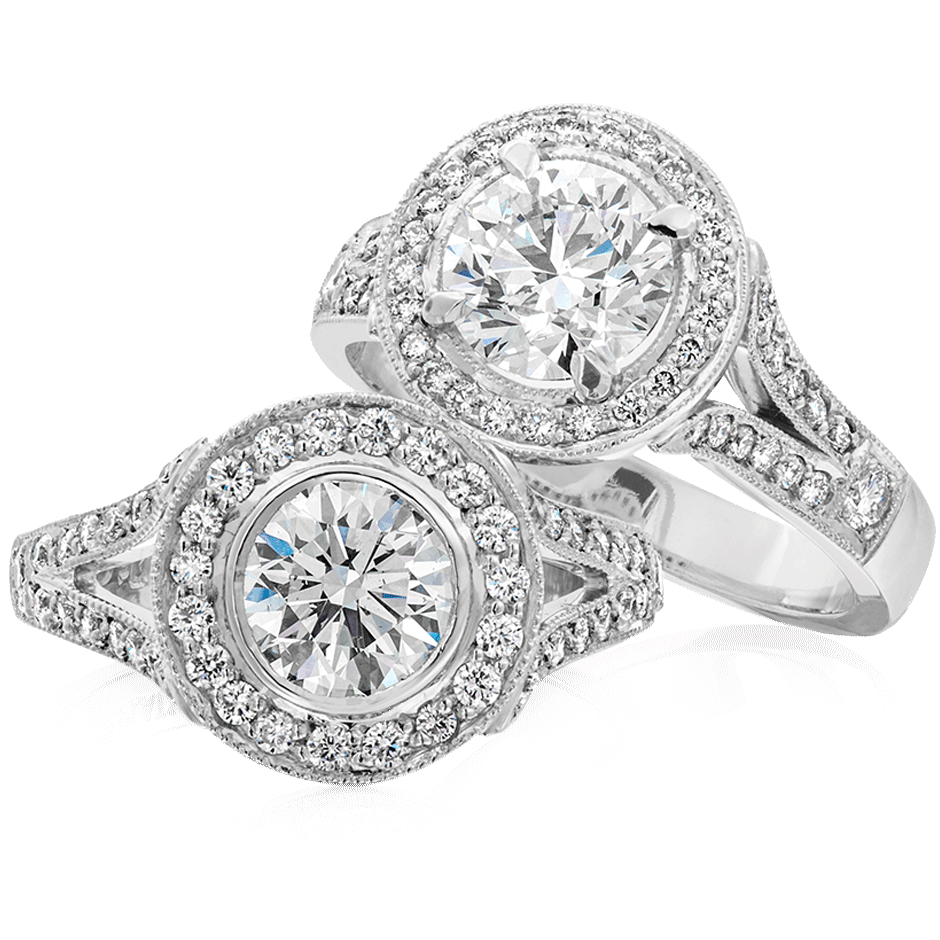 First Tab - do not remove
Diamond Engagement Rings
Diamond Engagement Ring
The First Step to Forever
An engagement ring is symbolic. It conveys the love between two people, a love so great that they've decided to commit to each other for the rest of their lives. Choosing the right engagement ring is a big decision, and we're here to help you pick the best one to represent the start of this new journey to forever with your partner.
What should I know before buying an engagement ring?
To get the best engagement ring for your partner, you'll need to know his or her style. This will help you pick the right cut and size for the ring. It's also important to know the size of his or her fingers so the ring fits just right.
When you've got an idea of what you want to buy, consult a jewellery expert to get it done at a budget that fits within your means (you can always upgrade later!). Order your ring in advance because your jeweller will need time to set it; especially as some rings are even only made after you order them. 
How do I find my partner's ring size?
Finding out your partner's ring size without them knowing isn't impossible. The best way to do it is to get your hands in a ring they already own. Some of them will have the size stamped on the band, and you can simply use that information. Otherwise, you can take a photo of the ring next to a ruler, measure it yourself, or bring it to your jeweller. 
How do I choose the right diamond cut for an engagement ring?
The right diamond cut for diamond engagement rings is really whatever you like as a couple. But if you'd like some insight, the most popular—and often priciest—choice is the round brilliant cut. It's the sparkliest and the most brilliant, and it suits all hand shapes and sizes. The princess cut comes at a close second, followed by emerald, cushion, and oval cuts.
What's the difference between an engagement ring and a wedding ring?
An engagement ring typically only has one stand-alone dominant stone (though it can also be surrounded by smaller stones), and is given during a wedding proposal early on in the engagement. A wedding ring, on the other hand, is a plain metal band or diamond eternity band that's exchanged during a wedding ceremony and worn by the couple from then on.
Ask about an engagement ring set. It's important that you consider how your wedding band will fit with your engagement ring.
What metals are used in engagement rings?
The band of engagement rings can be made from gold (yellow, white, rose, and green), platinum, silver, palladium, and tungsten. The wide variety of choices gives you flexibility in style and budget.
What are the 4Cs?
The 4Cs of a diamond refer to the carat, colour, clarity, and cut. These are the four qualities that you must pay attention to before buying a diamond to determine its quality. Carat refers to its weight, colour concerns its hue, clarity involves its lack of blemishes, and cut evaluates the jeweller's skill in fashioning the rock.
Diamond Rings Sydney
We service many customers from Sydney and New South Wales. Quite often customers make an appointment with our designers or jewellers while they are visiting Melbourne.
Diamond Engagement Rings Melbourne
We're a leading provider of engagement rings across the generations. Make an appointment to start the design process of your diamond engagement rings.
Cushion-Cut diamond rings