Many years ago Romans first started wearing earrings with precious gemstones, such as diamonds. They have officially paved the way for the beautiful array of earrings you can find today. The Holloway Diamonds Earrings Collection includes some of the most beautiful earrings in the world, including cluster stud earrings, diamond hoop earrings, and other classic earrings.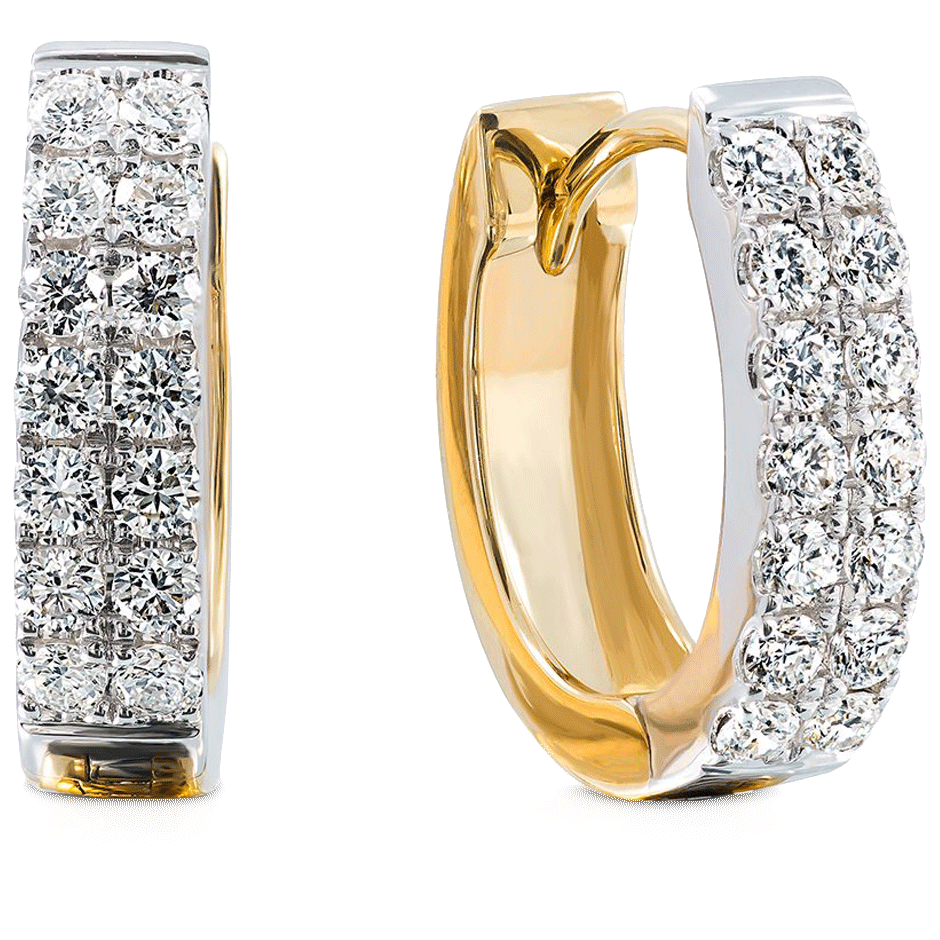 First Tab - do not remove
Earrings
A Diamond Really Is Forever
Diamond earrings are a classic jewellery investment that'll last you a lifetime—as long as you choose the right design and keep your earrings in tip-top shape. A piece from our timeless earrings collection could be your next best friend. If you're not quite sure how to choose the right pair of timeless diamond studs for you, here are answers to some FAQs that may give you a bit more clarity when you explore and shop for a new set of diamond studs. If you need any more help or are ready to buy a piece of jewellery, book an appointment to get diamond earrings that you will love!
What should I consider when purchasing a diamond?
Everyone thinks that the bigger the carat is, the better the diamond. Though the size of the rock does matter, there are other characteristics of a diamond that bring its value up. Focus on the four Cs when purchasing your piece of diamond jewellery: carat (total carat weight), colour, clarity, and cut. Only then should you consider other diamond factors like shape, fluorescence, and grading. Whether you are buying bracelets, necklaces, engagement rings, watches, or diamond stud earrings, you will want to keep each of those factors in mind while you shop.
You will also want to keep in mind the setting for the diamond. You will need to choose whether the diamond will be set in a white gold, yellow gold, rose gold, platinum, or other metal. The type of metal you choose and the diamond you choose will be dependent on whether the diamond will be set in bracelets, necklaces, engagement rings, or earrings.
How to buy the best diamond earrings at an affordable price?
Diamond earrings don't always cost an arm and a leg. You can find a beautiful pair of earrings with a price as cheap as $500 to $700. Before you shop, set an amount that you're comfortable spending on stud earrings, then narrow down your options into that price range. Next, make an appointment with a jewellery expert to ensure that you're getting the best value for your buck and choosing the highest quality brands and stud earrings.
How do I maintain and take care of my diamond earrings?
There's a misconception that diamonds will shine and sparkle as new forever. But a little TLC is needed to maintain its brilliance. You must regularly clean your diamonds to remove oil and dirt. You can clean diamond earrings by simply swiping them with a clean, soft cloth at the end of the day; for a bit of a deeper clean, you can also soak your diamonds in a jewellery cleaner. Handle your white gold diamond with care whenever you wear it (that also means taking it off when you need to do a bit of dirty work!) and keep it protected in its original box or a special jewellery bag every time you take it off. When you store your diamonds and other silver or white gold jewellery, you will want to place them out of reach from your children so that they don't get lost.
How should I style my diamond earrings for a special event?
Diamond earrings are a great accessory to elevate any outfit. Wear your classic diamonds at an art event, a fancy dinner, or a classy party to impress. But remember these style tips so that you never go over the top.
First off, pair your earrings with the right ensemble. Choose a simple but sophisticated outfit so that your diamonds and jewellery get the spotlight they deserve. If you want something more eye-catching, just make sure that jewellery doesn't clash with your accessories and outfit.
How your hair is styled also plays a big part in how you show off your diamonds. For diamond drop earrings, opt for an elegant up-do or a tight ponytail; for studs and cuffs, keep it light with wavy curls tucked behind your ears. Give your diamond earrings some backup by mixing and matching them with extra studs and other pieces of jewellery.
Can I Wear Diamond Earrings Daily?
Absolutely–beautiful earrings made with authentic diamonds are incredibly hard-wearing and perfect for wearing every day to bring a lift, sparkle, and touch of elegance to any outfit. Simple stud earrings are a subtle yet stunning way to make a statement with a slimline pair of earrings that catch the light without being overly heavy. Earrings come in a variety of shapes, sizes, and styles that can match any outfit and other jewellery such as your bracelets, necklaces, and engagement rings. You could get anything from white gold hoops and rose gold earrings to a diamond cluster stud and dangling diamond earring. 
If you want a superb pair of customised earrings that are suitable for everyday wear, real diamonds are the best possible option, as they require only a little care and maintenance; the most in-demand diamond earrings are those set in white or yellow gold for timeless style. Explore our earrings to find the perfect pair for you. Whether it's a round diamond stud or white gold earrings, we are sure to have what you need at our shop.
How Do I Choose Diamond Earrings?
The right earrings for you will depend on your preferences, such as whether you prefer to wear stud earrings or wish to custom-design diamond hoop or drop earrings. Other considerations include your budget–a luxurious pair of earrings is an investment in an heirloom piece of jewellery, but they do not necessarily need to be unattainably expensive! 
When you shop for earrings, our advice is to speak to one of Holloway Diamonds' master jewellers if you are keen to explore different settings, diamond cuts, and styles, and to think about how you wear earrings most often to ensure you get the best use from your new jewellery. Also, know your price range before you shop for your perfect earrings. 
What Are the Popular Styles of Diamond Earrings for Sale?
Earrings come in countless styles, shapes, cuts, and settings. Stud earrings with a perfectly cut princess diamond are effortless and can be worn to dress up a casual look or as a discreet hint of taste and luxury. Round cut diamonds also work well with stud earrings as a cut that suits everybody and every face shape.
Pear-shaped or teardrop diamonds provide an added sparkle as the light bounces off the slim tapered edge of your earrings and can be made in a range of jewellery settings, such as with a claw setting or a rubover setting, where the metal encases the edge of the diamonds set into your earrings.
Can I Add Features to My Diamond Earrings to Customise Them?
Holloway Diamonds is a custom jewellery specialist and can work with you to design bespoke jewellery, whether you wish to customise an existing setting to your earrings, add your touch of personality to a simplistic design for stud earrings, or have us hand-select a beautiful stone to add to your gold diamond cluster earrings.
What Metals Are Used for Diamond Earrings?
Diamond earrings can be made with any precious metal you wish, including gold, white gold, silver, yellow gold, or platinum. If you are designing a special pair of earrings for an engagement or another occasion, please explore our ranges of gold diamond jewellery online, make an appointment to visit our expert jewellers, or let us know the design ideas you love, and we will bring them to life.
Note: Holloway Diamonds use only yellow or white gold in jewellery.
How Do I Ensure Large Diamond Hoop Earrings Are Comfortable to Wear?
A gorgeous pair of stud earrings is one of the best gifts to receive, but if you are concerned about wearability, we'd recommend you view some of our classic earrings through our online gallery or book a convenient time to visit our jewellery shop. The best setting, cut, and style of earrings may depend on your lifestyle, but with a bespoke setting and perfectly sized diamond, you can create a unique pair of earrings that will be comfortable to wear for years to come.