Many years ago Romans first started wearing earrings with precious gemstones, such as diamonds. They have officially paved the way for the beautiful array of earrings you can find today. The Holloway Diamonds Earrings Collection includes some of the most beautiful earrings in the world, including cluster stud earrings, diamond hoop earrings, and other classic earrings.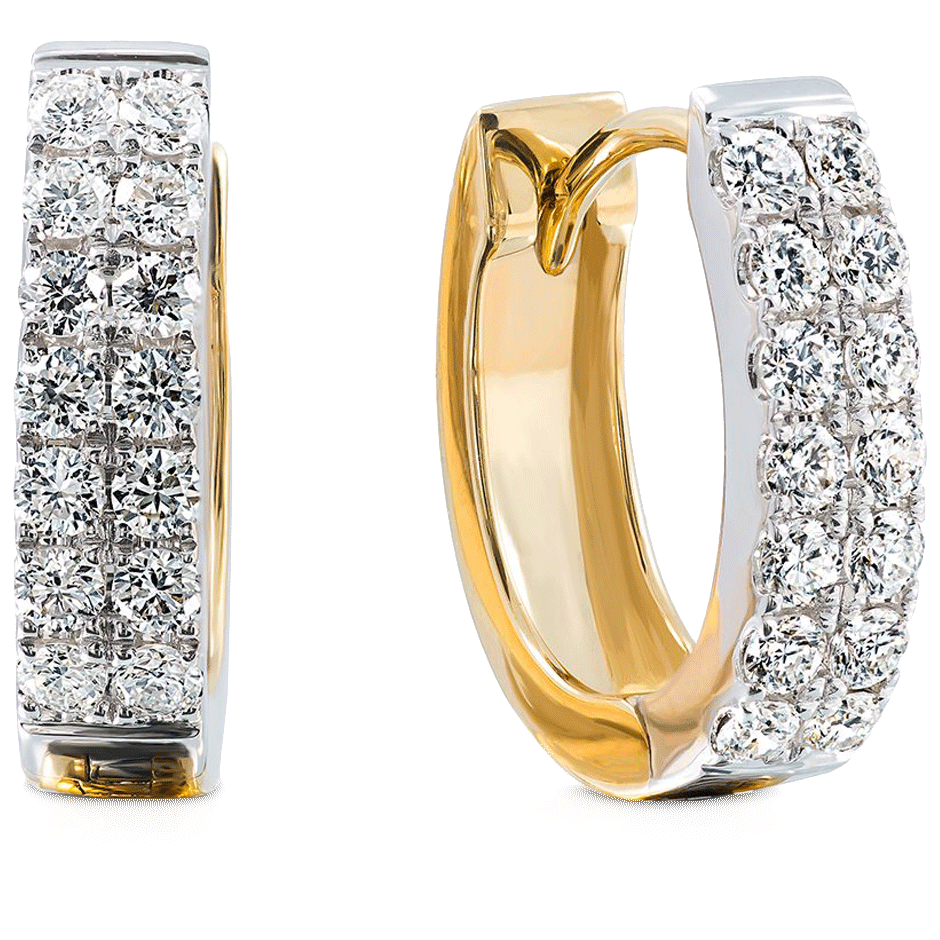 First Tab - do not remove
Earrings
A Diamond Really Is Forever
Diamond earrings are a classic jewellery investment that'll last you a lifetime—as long as you choose the right design and keep your earrings in tip-top shape. A piece from our timeless earrings collection could be your next best friend. If you're not quite sure how to choose the right pair of timeless diamond studs for you, here are answers to some FAQs that may give you a bit more clarity when you browse and shop for a new set of diamond studs. If you need any more help or are ready to buy a piece of jewellery, book an appointment to get diamond earrings that you will love!
What should I consider when purchasing a diamond?
Everyone thinks that the bigger it is, the better the diamond. Though the size of the rock does matter, there are other characteristics of a diamond that bring its value up. Focus on the four Cs when purchasing your piece of diamond jewellery: carat (total carat weight), colour, clarity, and cut. Only then should you consider other diamond factors like shape, fluorescence, and grading. Whether you are buying bracelets, necklaces, engagement rings, watches, or diamond stud earrings, you will want to keep each of those factors in mind while you shop.
How to buy the best diamond earrings for my budget?
Diamond earrings don't always cost an arm and a leg. You can find a beautiful pair with a price as cheap as $500 to $700. Before you shop, set an amount that you're comfortable spending on stud earrings, then narrow down your options into that price range. Next, make an appointment with a jewellery expert to ensure that you're getting the best value for your buck and choosing the highest quality brands.
How do I maintain and take care of my diamond earrings?
There's a misconception that diamonds will shine and sparkle as new forever. But a little TLC is needed to maintain its brilliance. You must regularly clean your diamonds to remove oil and dirt. You can clean diamond earrings by simply swiping them with a clean, soft cloth at the end of the day; for a bit of a deeper clean, you can also soak your diamonds in a jewellery cleaner. Handle your white gold diamond with care whenever you wear it (that also means taking it off when you need to do a bit of dirty work!) and keep it protected in its original box or a special jewellery bag every time you take it off. When you store your diamonds and other silver or white gold jewellery, you will want to place them out of reach from your children so that they don't get lost.
How should I style my diamond earrings for a special event?
Diamond earrings are a great accessory to elevate any outfit. Wear your classic diamonds at an art event, a fancy dinner, or a classy party to impress. But remember these style tips so that you never go over the top.
First off, pair your earrings with the right ensemble. Choose a simple but sophisticated outfit so that your diamonds and jewellery get the spotlight they deserve. If you want something more eye-catching, just make sure that it doesn't clash with your accessories.
How your hair is styled also plays a big part in how you show off your diamonds. For diamond drop earrings, opt for an elegant up-do or a tight ponytail; for studs and cuffs, keep it light with wavy curls tucked behind your ears. Give your diamond earrings some backup by mixing and matching them with extra studs.