View our range of men's wedding bands. Holloway Diamonds can handcraft your wedding band from scratch or you can purchase one of our many designs in stock in store.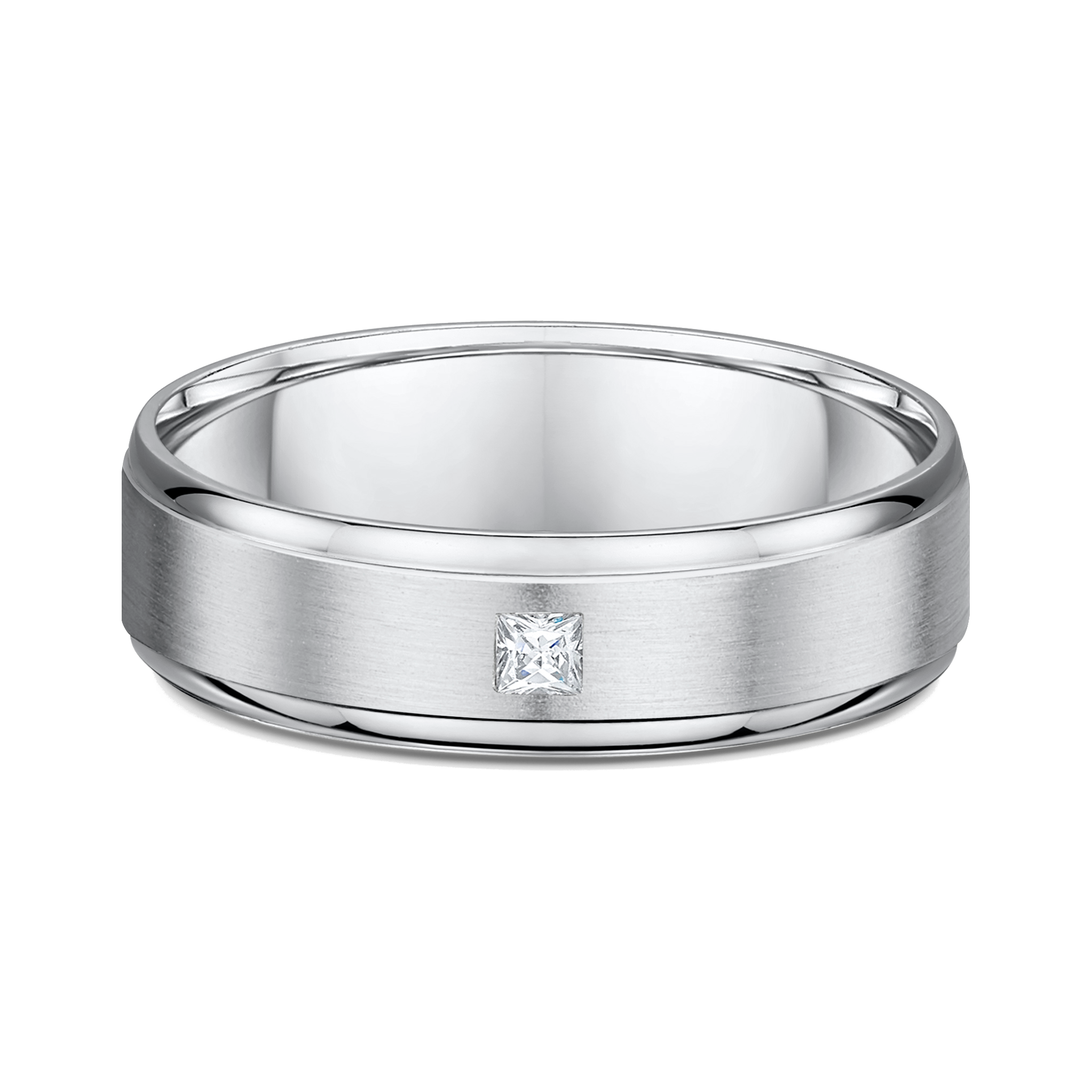 First Tab - do not remove
Men's Rings
Are Men's Ring Sizes Different From Women's?
Ring sizes work on a universal basis, with letters denoting the diameter of the ring in ascending order–the scale is consistent for both men's and women's rings. It is always important to have any custom-made ring sized accurately to ensure your elegant jewellery fits beautifully without slipping or restrictions.
We can offer clients an appointment with one of our skilled men's jewellery advisors virtually or in-store to establish the perfect sizing.
What Is the Average Men's Ring Size?
The average men's ring size is a T or U, compared to N or O for women, but this may depend on which finger you'd like to wear a ring–from the fourth finger on your left hand for a classic wedding band or partnership ring, to a ring worn on your thumb or smallest finger for style.
Our bespoke service means any men's ring acquired through Holloway Diamonds can be sized specifically to your fingers, noting that many men find that the width of their fingers may differ between hands.
Which Hand Does Men's Wedding Ring Go On?
Traditionally, men's wedding rings are worn on their left hand, on the fourth finger, the same positioning as for women's engagement, eternity, and wedding rings. This convention is linked with the 'heart line' vein, which runs from this finger to the heart, making it a meaningful way to wear a ring that captures an important moment or occasion.
However, some cultures have different customs, and we can tailor your chosen ring to your tastes and preferences. For instance, in many Eastern cultures, an engagement or wedding ring is worn on the right. 
Do Men's Wedding Rings Have Diamonds?
Adding diamonds as a subtle central accent or statement feature across the face of a wedding band makes a men's ring a unique, eye-catching piece that feels contemporary yet classic, with touches such as a brushed finish and rails that add interest and texture.
The symbolism of a diamond, which represents strength and durability, is a way to reflect commitment, enduring love, and the power of partnership.
What Is the Best Metal for Men's Wedding Rings?
Men's wedding rings have evolved in recent years as more grooms and civil partners opt for stunning precious metals, such as white gold, titanium, platinum, and rich rose gold, alongside yellow gold wedding bands.
Gold has long been a premium metal used in men's wedding rings, but your choice of high-quality metal should be as personal as your vows. White or rose gold may be perfect if you feel these tones better suit your character or style.
How to Style Men's Rings
Styling is a matter of individual taste, and there are no right or wrong answers. Many clients find that a statement wedding band denotes impeccable style, with a wider band that looks proportionate with larger hands and finger sizes.
Whether you prefer to wear several rings across both hands, have an heirloom ring you wish to wear daily, or simply require a stunning wedding band, flawless quality speaks for itself.
Do Rings Look Attractive on Guys?
When worn appropriately, rings look very attractive on guys–the key is choosing the right pieces and styling them correctly. Some men look great with just one statement ring, while others look extra fashionable with a combination of two or three pieces. It's important to consider the accessories in relation to the full look for overall cohesion.
What Types of Rings Look Good on Men?
Many kinds of rings look good on men. Classic bands are often the top choice as they offer a sleek and stylish look. Holloway Diamonds offers a curated selection of men's bands that will look amazing on any guy.
Signet rings also look chic, especially when worn as a statement piece. Studded rings, gem rings, and titanium rings are also trendy pieces that could suit different men.
How Do I Choose a Ring For a Man?
When choosing a ring for a man, you should consider the type, size, and material of the piece. If he often wears multiple rings, you'll also want to consider how they will all look together. The experts at Holloway Diamonds can guide you through how to buy a ring that best suits his style.
On Which Finger Should a Single Man Wear a Ring?
A single man can typically wear a ring on any finger except the ring finger. The ring finger is traditionally reserved for engagement rings or marriage bands to denote a commitment to a relationship. While it may still be acceptable to wear a ring on the ring finger for fashion, it might be construed differently if you're a single man.
On Which Finger Do Most Single Guys Wear a Ring?
Most single guys wear rings on their index fingers. This is rooted in tradition from a time when men would don rings with their family crests to display status. 
Single men also often wear rings on their middle fingers, but this is usually when they're only wearing one statement piece. Single guys can also wear a ring on their thumbs or pinky fingers for fashion.
Does Wearing a Ring on Your Little Finger Mean Anything?
In the past, men would wear a signet ring on their little fingers for signing documents. They would press their ring face onto hot wax and imprint a seal onto a paper or envelope. 
Now, men commonly wear college or club rings on their little fingers to show association. At the same time, some guys wear statement pieces on their pinky fingers just for style.
Do Men Wear Engagement Rings?
Engagement rings aren't just for women–men can wear engagement rings, too! In some cultures, engagement rings come in sets of two, with one for each partner. 
Men's engagement rings are typically simpler in design and wider in size. They usually look similar to a wedding band, but they may also be designed to match the engagement ring of their partner or come with a bit more flair, depending on his preferences!