Wedding and Eternity Bands
At Holloway Diamonds, we can create the perfect Wedding band or an Eternity band to perfectly accompany your gorgeous engagement ring in comfort and style.
We choose stones of the highest quality and brightest sparkle to enhance the beauty of your engagement ring.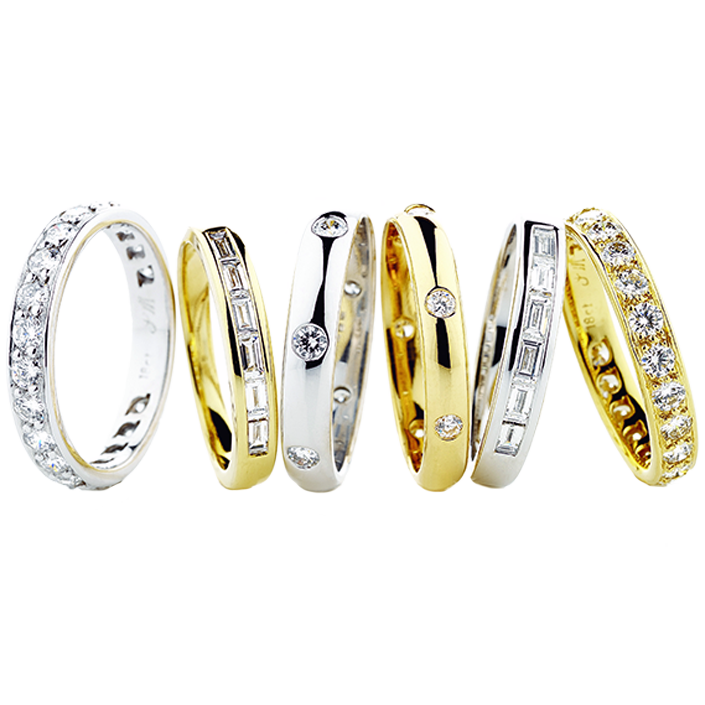 First Tab - do not remove
Wedding and Eternity Bands
Wedding rings and eternity bands are significant symbols of a couple's promise of everlasting love. Holloway Diamonds has designed eternity rings made of the highest quality stones, ensuring that you only offer the best gifts to your forever partner. You can find silver and gold jewellery that complement all your other accessories. Explore the jewellery shop collection to find the ring that matches your beau's engagement ring and other jewellery! You can view our jewellery collection to find the perfect wedding rings.
What is an eternity ring given for?
While an engagement ring symbolises promise and a wedding band signifies commitment, an eternity ring is a signal for everlasting love and devotion to one's spouse. These diamond eternity rings are typically given as gifts during a milestone in a relationship, such as the day a child is born, and represent a couple's promise to stay at each other's side for more significant events to come.
When should an eternity ring be given?
An eternity ring is given after a couple's marriage. The exact day when the ring should be given depends on the couple. That said, the diamond ring is commonly given during a milestone in the relationship, such as a tenth anniversary, the birth of a child, or the purchase of a new home. You can even give the ring further in your relationship, like when you renew your vows. The jewellery is a way of saying that as your marriage evolves, you'll stay committed to each other in love. The rings can be given as gifts at home or out on a special outing.
What do eternity bands symbolise?
Eternity bands symbolise a promise to forever love and be devoted to your partner. It's the last piece to complete the three-piece bridal ring set; the others being the engagement ring and the wedding ring. All three wedding rings represent promise, commitment, and everlasting love.
What is the difference between a wedding band and an eternity band?
A wedding band is given during the wedding ceremony. The rings typically feature a plain band, but many couples choose to put diamond accents that go halfway around the piece. The rigns typically match the engagement ring; some jewerelly pieces are even made to complement and meld with it seamlessly.
An eternity band, on the other hand, is given during a relationship milestone after a couple's marriage. The jewerelly features diamonds that go all the way around the band to symbolise a cycle of everlasting love. It's incredibly versatile and can be worn on its own or stacked with other engagement rings, though it's typically placed on top of the engagement ring.
How long after marriage do you get an eternity ring?
When an eternity ring is given after marriage depends on the couple. It could be immediately, once they've experienced or celebrated an important milestone–but it could also be much later in the future. Men often give the rings as gifts on the day of that special milestone.
What are the rules for eternity rings?
Tradition defines some rules for eternity rings. For example, you must wear yours on your ring finger, on top of your engagement ring (which would be on top of your wedding ring). It also must use round diamonds that wrap around the whole band. However, many women have been breaking convention, playing with diamond shapes and settings, as well as hand placement, depending on how it matches their existing rings, jewellery style, and overall comfort.
How do I choose the right ring?
Choosing the right ring can be a challenge, especially when there are so many diamond jewellery options. When you shop for the perfect ring, here are some things to keep in mind. First, you want to consider the diamonds on the ring. You want to know the clarity and carat of each diamond. Second, you need to think about the type of band. You could choose white gold, yellow gold, rose gold, silver, or another type of metal for the band. Third, decide what style of ring you want. The ring you get should match the wedding bands along with other accessories and jewellery. Finally, don't forget to think about how fast you need the ring and price. Plan ahead to have the ring in time for the special day. 
To find the perfect ring, you can shop our collection of  eternity and wedding bands. We have several options you can explore, and if you can't find the ring you are looking for, you can always have a custom piece of jewellery created.
Also read more about when to buy an eternity ring.
Wedding Band Versus Eternity Ring
Both wedding bands and eternity rings mean love, but the former symbolises the start of a commitment, while the latter signifies everlasting love and devotion. A wedding band is typically just a plain band (though you can put diamond accents, too!) that matches the engagement ring and is given during the wedding ceremony. 
On the other hand, an eternity band has diamonds that encircle the band and can be worn on its own or with other rings; the rings are usually given as gifts after a relationship milestone, like the birth of a child, the purchase of a first home, an important anniversary, or a renewal of vows.
Platinum Versus White Gold Eternity Band
Platinum and white gold are the top options for the white metal aesthetic for eternity bands. Platinum is the more premium choice. Made with a naturally white element, it keeps its sheen over time and remains more malleable. However, because it's rarer, it's often more expensive for fings. 
White gold, on the other hand, is made of mixed alloys (as there's no natural white gold). While it's durable for everyday wear, you'll have to have it re-plated once in a while, but it's still more affordable than platinum.
How to Wear an Eternity Ring
An eternity ring is traditionally worn on the ring finger to complete a three-piece wedding ring set. It should sit on top of your engagement ring, which should be on top of your wedding ring. That said, feel free to wear it as you please, whether it's on different fingers or the opposite hand; you don't have to always wear the rings set together. 
What Is a Half-Eternity Ring?
Unlike a full eternity ring that has diamonds that go all around the band, a half-eternity ring only has stones set across the top half of the ring, covering only half or ¾ of it. Many people opt for half-eternity rings because they're more affordable, more durable, and more comfortable to wear. Plus, these rings allow for more customizability; you can use larger diamonds and you can resize the ring if needed in the future. 
Can I Have an Eternity Ring Custom Made?
Yes! Eternity rings can be tailored to your unique preferences and specifications. You can choose the diamonds, the band, and how the stones are set on the ring.
Many couples have custom-made eternity rings that match their existing engagement ring and wedding band, rounding out a complementary three-piece rings set. 
Can You Resize a Diamond Eternity Band?
It's very difficult to resize a full diamond eternity band, so you must ensure that you get the right ring size when getting it made. If a professional jeweller deems it possible to resize your full diamond eternity band, the process will probably involve adding or removing stones or smouldering the ring. 
Half-eternity bands are more flexible. Because the diamonds don't link the whole way around the band, they can be resized in the same way as other more minimalist rings.