View below the Holloway Diamonds Bracelets and Bangles Collection. This is just a sample of the elegant diamond jewels available. We also have a large collection of bespoke pieces designed over the years. Speak with our designers about your bespoke bracelet design or stones you have that you would like set into a bracelet.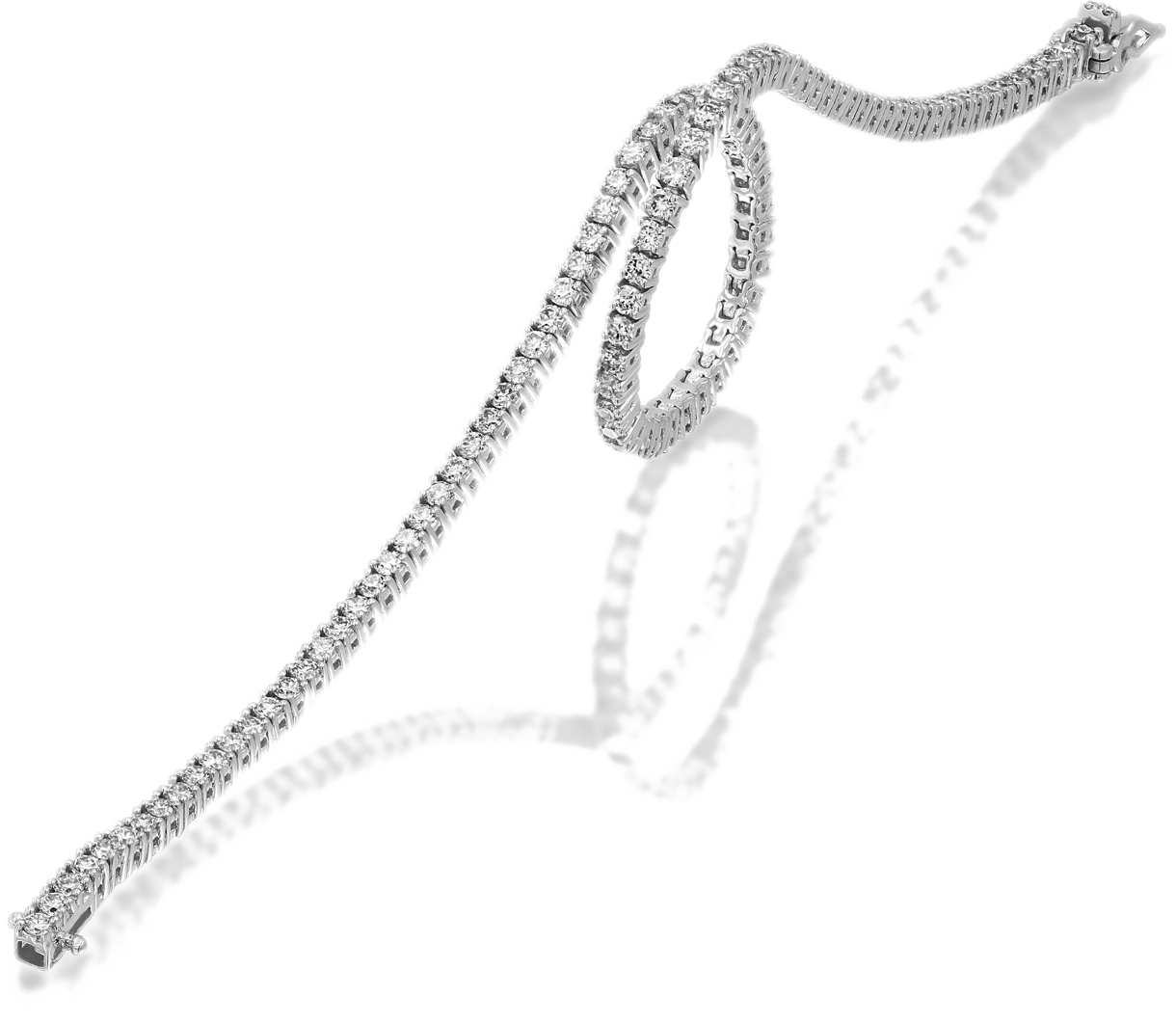 First Tab - do not remove
Bracelets & Bangles
Timeless Glamour on Your Wrists
Diamond bracelets embody style and glamour along with bringing a touch of elegance to any ensemble. You'll be turning heads, whether you wear it to dress up a daytime outfit or bring an extra sparkle to your evening gown.
Can I wear a diamond bracelet every day?
You can wear a diamond bracelet every day as long as you give it proper regular care and send it over to a jeweller at least once a year to check for loose stones, broken clasps, or metal fatigue.
What kind of diamond bracelets are in style?
A diamond in whatever form is sure to turn heads. But if you want to keep yourself in style, then a diamond tennis bracelet is the way to go. With diamonds set from end to end, it embodies elegance and sophistication—yet it's simple and versatile enough that you can wear it with almost anything. Other diamond bracelets that will always be in style include charm bracelets, chain bracelets, bar bracelets, and cuffs and bangles.
How do I open a diamond bracelet?
Diamond bracelets, particularly diamond tennis bracelets, usually have a safety clasp that prevents them from falling off your wrist even if the main clasp unbuckles. These latches are either classified as circles or chains.
To open a circle clasp, lift the figure eight-looking latch until it unhooks from the knob, then apply a bit of pressure to the push-button on its side while gently pulling the two ends of the bracelet lock apart.
To open a chain clasp, unhook the under-clasp until it's completely open and loose, then press on the push-button to release the chain before undoing the main clasp and sliding off your bracelet.
How do I clean a diamond bracelet?
Regularly cleaning your diamond bracelet keeps it sparkly and sturdy. To do it, prepare a simple cleaning solution with warm water and dish-washing soap or a jewellery cleaning liquid (you can also use other liquid soaps or shampoos—just make sure they don't have any moisturizer or they'll leave a film on your jewellery). Soak your diamond bracelet in the solution for 20 to 40 minutes, then gently brush it with a toothbrush to dislodge any dirt, especially in the crevices. Rinse your jewellery with warm running water, then dry it with a clean soft cloth.
What is a diamond tennis bracelet?
A diamond tennis bracelet is a bracelet made up of a symmetrical pattern of diamonds connected by a thin metal chain. The stones in this bracelet are usually of the same carat, cut, colour, and clarity.
What should I look for when buying a diamond tennis bracelet?
Aside from making sure that it fits your wrist properly, you must consider the purity of the metal chain (usually gold) and the quality of the diamonds (think of the 4Cs: carat, cut, colour, and clarity) when buying a diamond tennis bracelet. You also need to check its flexibility and durability, taking extra care to notice the sturdiness of its clasps.