At Holloway Diamonds, you will find the perfect engagement ring or you can easily create your own unique custom designed engagement ring and wedding ring. Whether you have a ring idea in mind or an engagement ring picture to work with, our jewellers will help you design and create a unique engagement ring that reflects you and your upcoming engagement.
All of our diamonds are hand-selected and all stones over .7 carat have a GIA report. In addition, all of our diamonds must also pass the HCA test and the Ideal Scope selection process.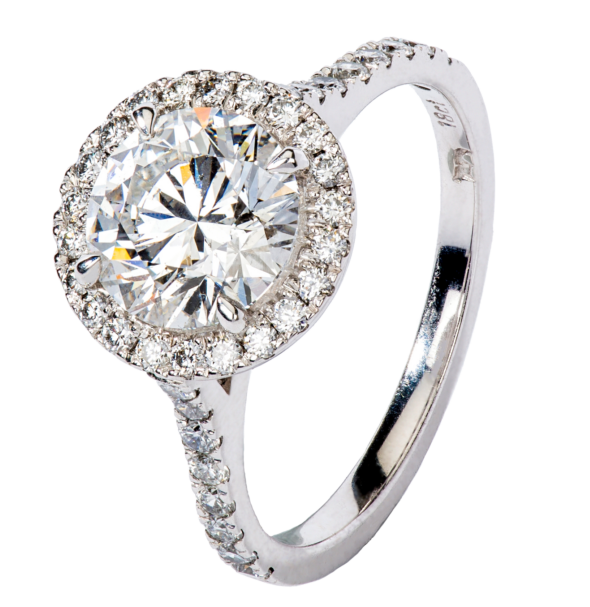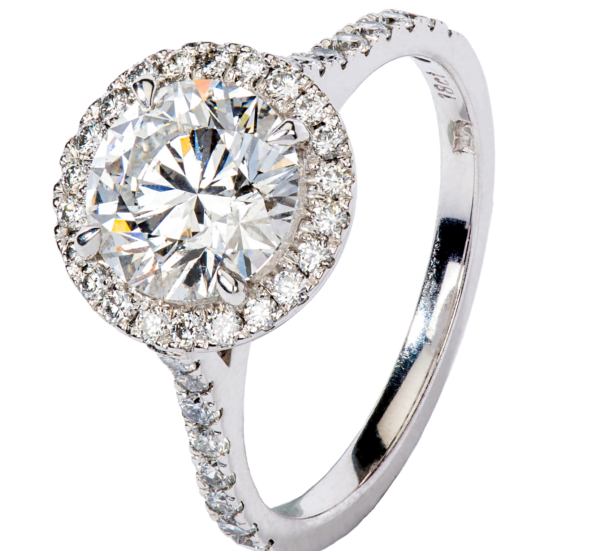 First Tab - do not remove
Diamond Engagement Ring Collection
The First Step to Forever
An engagement ring is symbolic. Diamond engagement rings convey the love between two people, a love so great that they've decided to commit to each other for the rest of their lives. The engagement is a special part of the wedding process that should not be taken lightly. Choosing the right engagement ring is a big decision, and we're here to help you pick the best diamond engagement ring to represent the start of this precious new journey to forever with your partner.
In this engagement ring guide, we'll cover the important information to know when you shop for a round brilliant ring for your engagement.
What should I know before buying an engagement ring?
Engagement rings come in a variety of  styles and variations. To get the best engagement ring for your partner, you'll need to know his or her engagement ring style. This will help you pick the right cut and size for the ring. You can discuss with your partner their favorite diamond engagement ring styles or you can look at the jewellery styles they wear as a guide. It's also important to know the size of his or her fingers so the ring fits just right. Choosing jewellery for your loved one can be difficult however, Holloway Diamonds can help you through the whole process.
When you've got an idea of what engagement ring set you want to buy, consult a jewellery expert to get the ring made at a price that fits within your means (you can always upgrade the ring later!). Order your ring in advance because your jeweller will need time to set it before the engagement; especially as some rings are made after you order them. 
There are a variety of diamond engagement rings you can choose from. You could get a solitaire engagement ring, diamond band engagement ring, diamond halo engagement ring, vintage diamond ring, and more diamond rings. 
Whether you choose from our yellow gold engagement rings or opt for white gold, your partner is sure to love the ring you have thoughtfully chosen for them and to signify your engagement. You can also choose the colour of your engagement ring diamonds, such as yellow, champagne, or the converted Argyle pink diamond. Some people wonder which diamond colour is best and that all depends on your personal ring style and diamond preferences.
How do I find my partner's ring size?
Finding out your partner's ring size without them knowing isn't impossible. The best way to figure out their ring size is to get your hands on a ring they already own. Some rings will have the size stamped on the band, and you can simply use that information. Otherwise, you can take a photo of the ring next to a ruler, measure it yourself, or bring it to your jeweller who can recommend the right size for an engagement ring. Knowing your partner's ring size will help you determine which diamond will be best for the engagement.
How do I choose the right diamond cut for an engagement ring?
The right diamond cut for an engagement ring is really whatever you like as a couple. But if you'd like some insight on diamond ring cuts, the most popular—and often priciest—choice is the round brilliant cut. The round diamond cut is the sparkliest and the most brilliant, and the cut suits all hand shapes and sizes. The princess cut comes at a close second, followed by emerald, cushion, and oval cuts. There is also a brilliant cut diamond and other cut engagement rings available to choose from in our showroom..
What's the difference between an engagement ring and a wedding ring?
An engagement ring typically only has one stand-alone dominant diamond, a diamond solitaire engagement ring (though it can also be surrounded by smaller diamonds in a halo), and it is the ring given at the time of a wedding proposal early on in the engagement. A wedding ring, on the other hand, is a plain metal band or diamond eternity band that's exchanged during a wedding ceremony and worn by the couple from then on. Each partner traditionally wears a wedding ring.
Ask about an engagement ring set. It's important that you consider how your wedding band will fit with your engagement ring and all of your other jewellery you want the diamond to match with.
What metals are used in engagement rings?
The band of engagement rings can be made from a variety of metals including gold (yellow, white, rose, and green), platinum, silver, palladium, and tungsten. The wide variety of ring band choices gives you flexibility in style, design, and budget. Diamonds also match with almost any type of metal which gives you even greater flexibility when choosing engagement jewellery.
What are the 4Cs for Diamonds?
The 4Cs of a diamond refer to the carat, colour, clarity, and cut. These are the four qualities that you must pay attention to before buying a diamond to determine its quality. Carat refers to its weight, colour concerns its hue, clarity involves its lack of blemishes, and cut evaluates the jeweller's skill in fashioning the diamond. When picking the diamonds for your ring, you will want to consider each of these diamond features. 
To find diamond engagement rings, you can shop in a variety of places. However, given the significance of engagement rings, you should ensure you are engaging with a reputable showroom and dealer when choosing your ring. You can browse our ring collection online and make an appointment to shop in store and visit our showroom for an in-person experience. By appointment, our expert jewellers can guide you through creating a design for your ring or shop from our existing collection of diamond rings. Our personalized service will help make purchasing an engagement ring a special experience.
Diamond Rings Sydney
We service many customers from Sydney and New South Wales. Quite often customers make an appointment with our designers or jewellers while they are visiting Melbourne.
Diamond Engagement Rings Melbourne
We're a leading provider of engagement rings across the generations. Make an appointment to start the design process of your diamond engagement rings.
Cushion-Cut diamond rings
How Do I Choose a Diamond Ring Design?
If you are ready to propose but unsure how to select the right rings, differentiate between styles, or what to look for in an exceptional gold engagement band, please book an appointment for a consultation at your convenience. We can steer you through the unique engagement rings, explain the classic engagement rings that are most popular, or help you design a bespoke ring for your spouse-to-be.
What Metals Are Used in Engagement Rings?
Traditional engagement rings are made with gold or white gold, featuring a single diamond or with a halo of gemstones such as rubies or emeralds surrounding a princess cut diamond or solitaire stone. However, there are limitless ways to create modern, timeless, or chic rings featuring any stones, settings, or materials you wish to feature. You can stick with the classic white gold, yellow gold, or silver metals or you could do something more creative. You can also use a different color of diamond such as red or pink diamond jewellery. How you design your engagement and bridal set rings is entirely up to you and your needs.
How Can I Make a Ring More Affordable?
Our advice is always to consult a jewellery expert if you wish to create the perfect diamond ring for your loved one but need to conform to a fixed budget for your engagement. There are multiple ways to maximise the value and beauty of a customised diamond or offset a precision-cut halo diamond with other hints of colour and shade using precious gems in the halo.
You can also change the setting and style of your ring, using white gold instead of platinum, or multiple smaller diamonds for incredible sparkle and shine, without the higher price that comes with large, rare diamonds. For example, a trilogy of diamonds can be as breathtaking as one bigger diamond but is often more affordable for engagement rings.
How Long Does it Take To Have an Engagement Ring Made?
As an accomplished team of custom engagement ring designers and craft jewellers, we recognise that there can be times when you have a limited timeframe for ordering your engagement jewellery. Holloway Diamonds will always endeavour to help you meet any upcoming engagement dates heading your way!
The average time required to custom make a bespoke engagement ring is anything from two to five weeks, although much depends on the setting, style, diamond, or precious gems you have selected. We also have an extensive range of ready-made rings, all created with the same impeccable craftsmanship and attention to detail, featuring fantastic diamonds and richly coloured gems set in classic bands such as gold, white gold, or vintage rings.
Can I Use a Coloured Gemstone in My Engagement Ring?
You certainly can! Coloured gemstones are a wonderful way to make a diamond setting shine or add colour and interest to a gold engagement band or white gold setting. A diamond ring is a beautiful piece of heritage jewellery that can pass through the generations, and adding gemstones such as sapphires can make your ring something special.
What Makes Holloway Diamonds the Perfect Place to Buy an Engagement Ring?
Holloway Diamonds is proud to have built a reputation as the most highly-regarded designer and jewellery maker for engagement rings. Our jewellers pour skill, expertise, knowledge, and precision into every engagement ring we create, using the finest quality diamonds and gems to develop astonishingly beautiful rings that will mark your moment in time and beautiful engagement experience. We work with clients across Australia offering in-person consultations or virtual appointments, and aim to exceed your expectations at every turn. You can book your appointment online today and learn additional details about our engagement rings.