The Best Engagement Rings in Melbourne
Shopping for a diamond ring or engagement ring can be quite daunting. Choosing a reliable and honest jeweller should be the first task on your list. Holloway Diamonds are known for designing and crafting the best diamond engagement rings in Melbourne since 1976. We offer custom-designed engagement rings to suit our client needs and budget. All of our engagement rings are made in the workshops of both of our Melbourne stores located in Brighton and Canterbury. These are just some of the best engagement rings in Melbourne ranging from AU$10 000 – AU$190 000.
Get a better look at our collection of engagement rings in Garry Holloway's video.
CLASSIC HALO DIAMOND ENGAGEMENT RINGS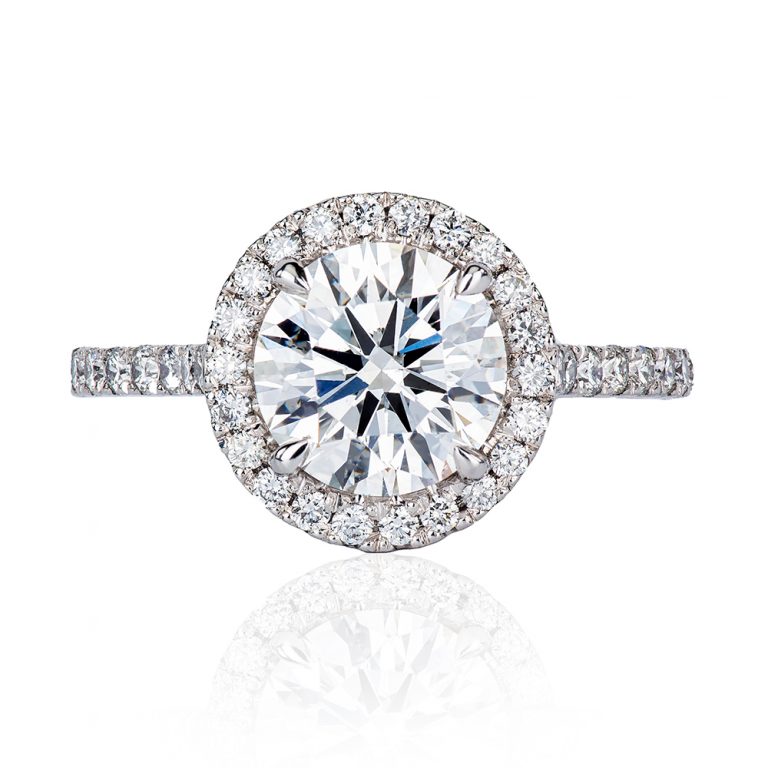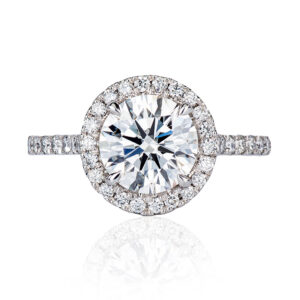 18K White Gold Round Diamond 2.09ct with Fine Grain Set Halo and Diamond Band
Trends come and go but a classic diamond ring stays forever. You can't go wrong with this classic halo diamond engagement ring. This diamond engagement ring is both elegant and timeless. This brilliant round cut diamond exhibits beautiful arrow patterns in the centre of the diamond as seen in the image above.
TIFFANY STYLE ENGAGEMENT RINGS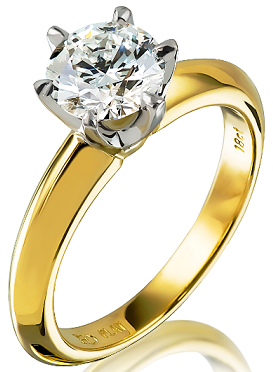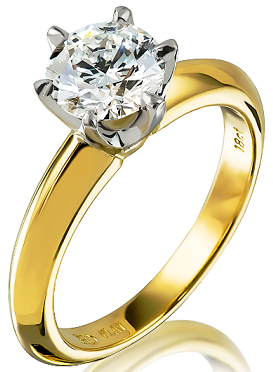 Unique 2ct diamond solitaire engagement ring cradled in a split band
 This Tiffany-style engagement ring is a six claw diamond solitaire engagement ring. Unlike most of our diamonds which are easy to clean. The issue we commonly find with this classic style ring is the cleaning of the ring. The diamond is cut too deep in the pavilion at the bottom of the diamond causing the diamond to touch those claws on the inside. The consequence of this is that you can't get in there to clean it so they're left permanently dirty. Besides that, these classic style rings are breathtaking. We source the most brilliant diamonds for our clients through the use of Garry Holloway's patented cut assessment technology.
FIVE-STONE DIAMOND RINGS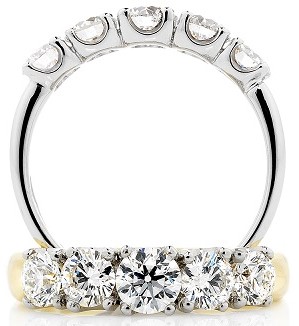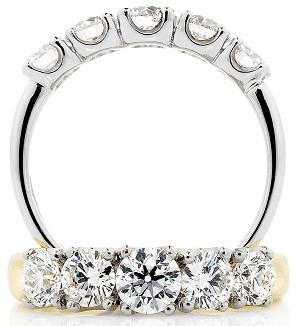 18K Yellow Gold and Platinum Ring with Five Graduated Diamonds
Five-stone diamond rings are commonly worn as an eternity ring or a right-hand ring. However, we have had clients purchase it as an engagement ring. Alternatively, used as second time round wedding ring. These rings are beautiful and exhibit a big show of diamonds. Available in Yellow Gold or Platinum.
OVAL DIAMOND ENGAGEMENT RINGS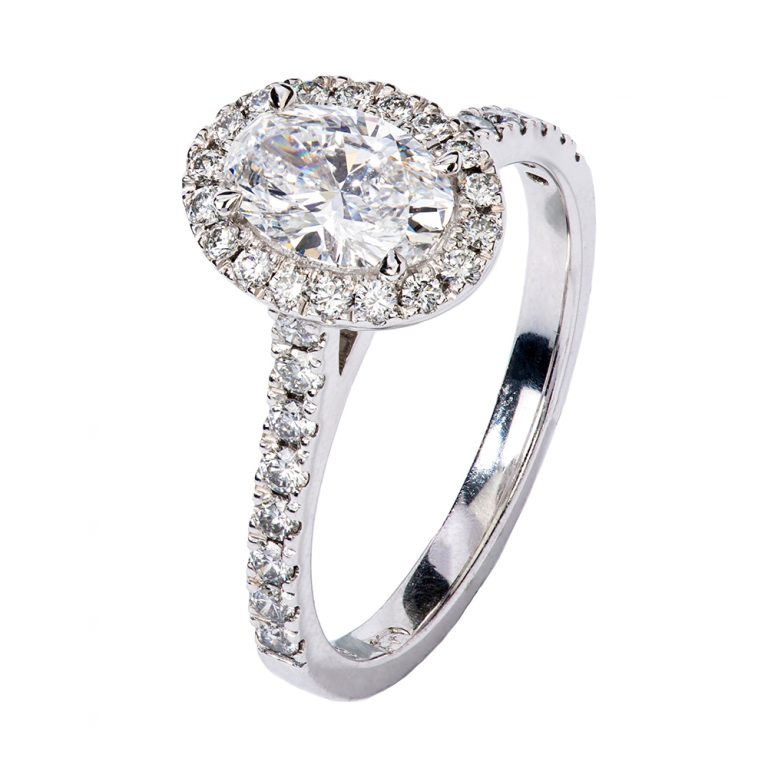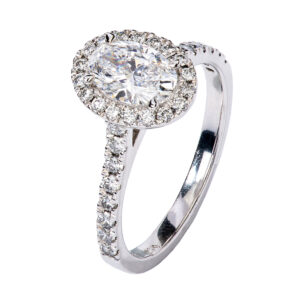 Oval Diamond Ring with Halo and Diamonds Claw Set in 18k White Gold Band
Our oval engagement rings are absolutely gorgeous. Specially designed to wear a flash wedding ring beside it. It is good to note that Oval and Marquise cut diamonds tend to have a very big bowtie directly in the centre. You can also identify that there is a significantly small diamond in the centre of this halo. Oval cut diamond rings are a popular engagement ring in Melbourne. This ring exhibits lots of flashes, brilliance and fire. Appreciated by most diamond lovers looking for that sparkle!
CLAW SWEEP DIAMOND RINGS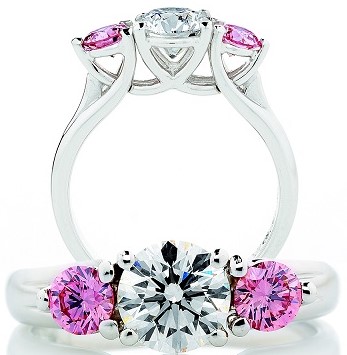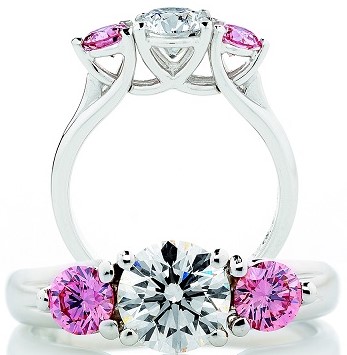 Pink and White Diamond Sweep Claw Ring
This stunning Platinum three-stone ring features two pink round brilliant cut diamonds alongside one white round brilliant cut diamond set in a sweep setting. This engagement ring is a modern approach to the traditional three-stone across engagement ring. The centre diamond weighs just as much as the combined weight of the two outside diamonds. Available in Pink Diamonds or Pink Sapphires to suit the taste of the client.
THREE-STONE ACROSS DIAMOND RINGS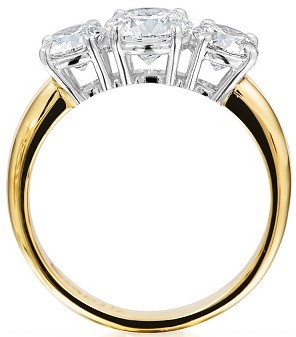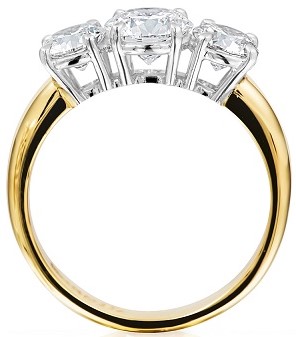 Three-Stone Across Diamond Ring on an 18K Yellow Gold Band
This three-stone across diamond engagement ring is perceived as the traditional version of the claw sweep engagement ring shown previously. This engagement ring is significant to Holloway Diamonds as it features three magnificent round brilliant diamonds. The three-stone across diamond ring is set on a simple upswept band.
ROUND BRILLIANT CUT AND TAPERED BAGUETTE DIAMOND ENGAGEMENT RINGS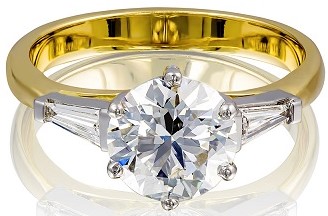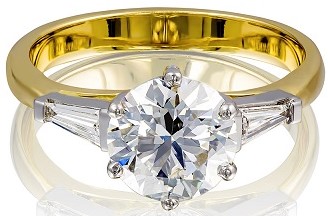 18K Yellow Gold Platinum Round Brilliant Cut and Tapered Baguette Diamond Ring
Tapered Baguette Diamonds is a great option for a three-stone setting engagement ring. The tapered baguettes will accentuate a round brilliant cut diamond in the centre making it an overall beautiful engagement ring. Opting for tapered baguette side stones is a beautiful way to add extra shine to the ring without taking away the attention from the centre stone.
These are just some of the best engagement rings in Melbourne. You never have to worry about wearing a dirty ring, because our engagement rings are designed to be easily cleaned. Our master craftsmen are dedicated to producing quality diamond engagement rings using state of the art technology. You will be getting the cream of the crop by choosing us as your preferred jeweller.
Shopping for Engagement Rings in Melbourne? Contact Us to schedule an appointment today!