COVID-19 has had a major impact on the wedding industry across the globe. Weddings that were initially planned for the early parts of 2020 had to be postponed or scaled-down. Royal Weddings that proceeded were Princess Riyah of Jordan, Princess Beatrice and Archduchess of Austria Eleonore. These Royal Weddings met the health and safety measures set by the World Health Organisation. The Royal Weddings may not have been in true royal grandiose fashion but they definitely set the trend for the 2020's Royal Weddings Season. Let's take a closer look at the unique bridal style looks and the diamond rings that got us to their union.
PRINCESS RAIYAH OF JORDAN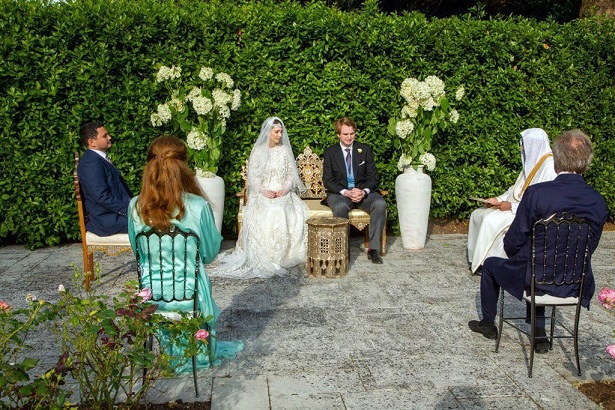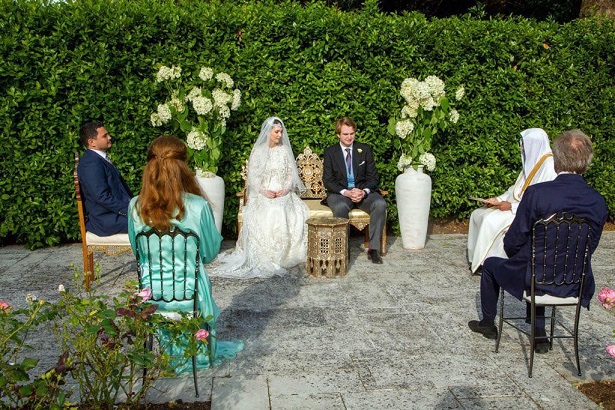 Ned Donovan and Princess Raiyah of Jordan's Wedding, Image Source: Arabian Royal Academy
Princess Raiyah of Jordan married journalist Ned Donovan on the 7th of July in a socially distanced Royal Wedding ceremony held in England. Princess Raiyah of Jordan is the youngest daughter of late King Hussein of Jordan, while Donovan, is one of the grandchildren of the famed author Roald Dahl. This was the first Royal Wedding since the Corona Virus outbreak. The Princess and Donovan had originally planned to tie the knot this past April in Jordan but the pandemic derailed those plans. Princess Raiyah of Jordan took to Twitter saying: "God willing we look forward to celebrating in Jordan once the situation allows."
BRIDAL LOOK
Princess Raiyah opted to take the traditional route like most royal brides, electing to wear a long-sleeved dress and lengthy veil. Her dress was made of lace detailed with intricate beading. She topped the look with a jewelled headpiece with a sapphire centre stone and diamond brooch belonging to her mother.
THE RING
Unfortunately, we couldn't source the statistics of Princess Raiyah's engagement ring but what we did manage to catch our eye on was a dazzling diamond ring on either a Platinum or White Gold band. Given her vintage sense of style, we assume Donovan had opted to gift her with an art deco style ring with diamond accents.
GET THE RING
If you're shopping for a classic style engagement ring, look no further than our 18K Diamond Vine Ring with Pear and Marquise OR Round Shape Diamonds.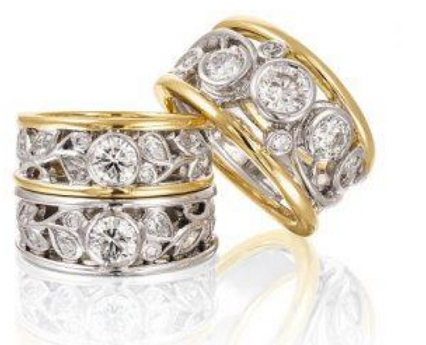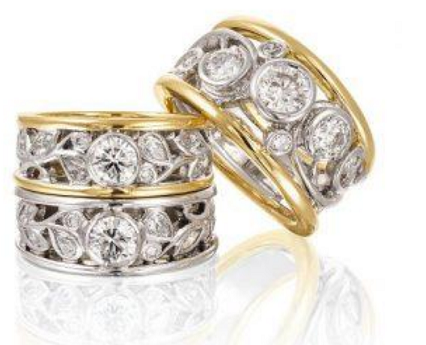 18K Yellow and White Gold comprising Pear Shaped, Marquise and Round Brilliant Cut Diamond wrapped in a Filigree Trellis Style Vine between Two Gold Rails.
We have a series of Vine rings to choose from to suit your acquired taste and sense of style. Holloway Diamonds is home to a team of highly qualified designers and jewellers who have the expertise to reset inherited diamonds or modify heirlooms. The Vine style is very versatile for resetting family heirloom diamonds.
PRINCESS BEATRICE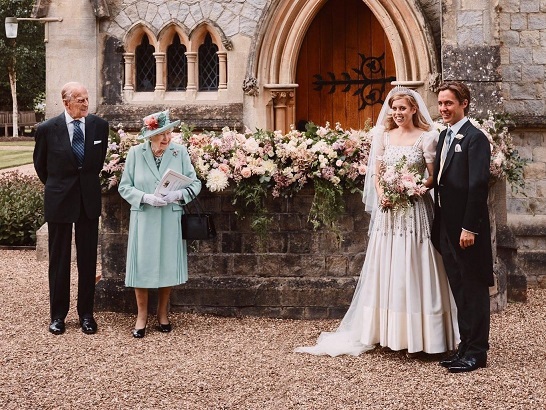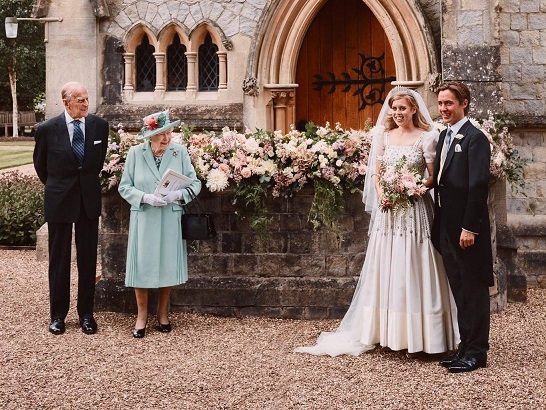 Princess Beatrice of York and Edoardo Mapelli Mozzi with the Queen and Prince Philip after their Royal Wedding, Photo Source: Benjamin Wheeler
Princess Beatrice and British property developer, Edoardo Mapelli Mozzi were set to get married on the 29th May this year. Like most weddings, their royal wedding plans were put on hold due to the pandemic. On the 17th July, news leaked that the couple married in secret during an intimate socially distanced ceremony at The Royal Chapel of All Saints at Royal Lodge. The Queen and Prince Phillip attended with a limited number of guests.
BRIDAL LOOK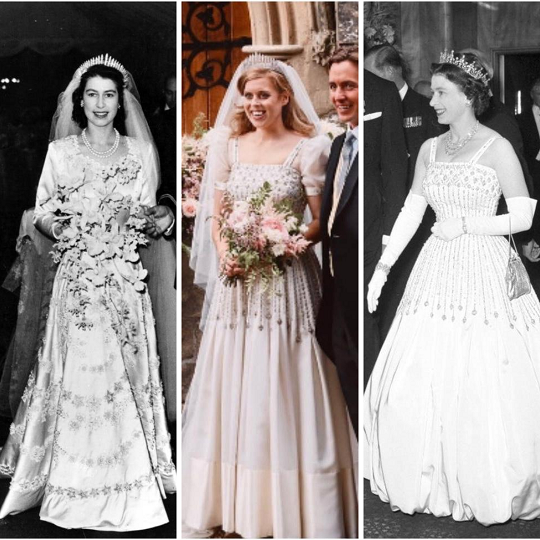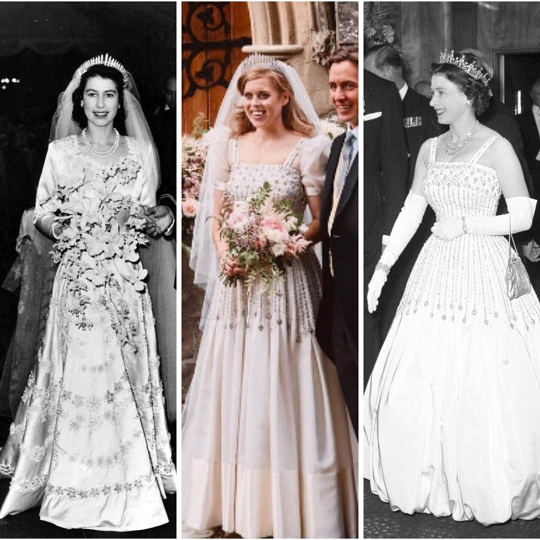 (Left to Right) Princess Beatrice wore the Queen's wedding tiara (1947) and a dress first worn by the Queen in 1962, Image Source: Hulton Archive, Benjamin Wheeler and PA Images via Getty Images
The Queen loaned Princess Beatrice a Vintage Dress for the wedding which she altered to suit her elegant modest style. The Princess also wore the Queen's favourite tiara called the Queen Mary Diamond Fringe Tiara, commonly known as The Fringe Tiara. The Queen also wore The Fringe Tiara on her own royal wedding day in 1947. The Fringe Tiara was originally made for Queen Mary in 1919 by Garrard & Co and inspired by a necklace belonging to Queen Victoria. For several years Garrard's CEO was Robert Procop whose exceptional jewels Holloway represents exclusively in Australia. It appears to have become a family favourite among royal brides. The Fringe Tiara was worn by many royal brides including Princess Elizabeth, Princess Anne, and now Princess Beatrice.
THE ENGAGEMENT RING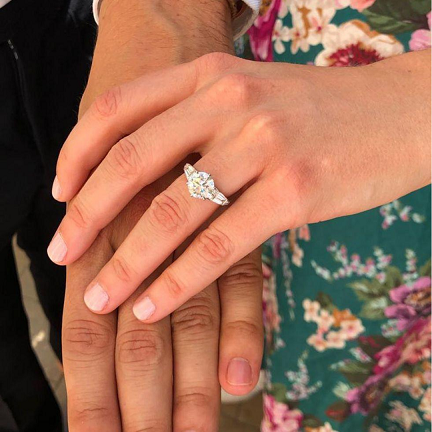 Princess Beatrice's Engagement Ring designed by Shaun Leane, Image Source: Handout- Getty Images
Princess Beatrice's Engagement Ring was designed by world-renowned British Jeweler, Shaun Leane. Leane has worked with Alexander McQueen, De Vinci and Boucheron to name a few.
Mozzi was very specific with what he wanted for Princess Beatrice. The engagement ring is a fusion of art deco designs. Crafted by hand and set with excellent cut diamonds of the highest colour and clarity. The diamonds were of course GIA certified and ethically sourced as are all Holloway diamonds.
The design process included consultations with Mozzi, resulting in personal and sentimental signifiers for the couple in the design. Juxtaposing Mozzi and Princess Beatrice's characters into the design resulted in a unique engagement ring that represents their love and lives entwined. The ring features a round diamond estimated to be between 3 and 4 carats. Flanked by two tapered baguettes set in Platinum. An engagement ring befitting for a Princess.
THE WEDDING BAND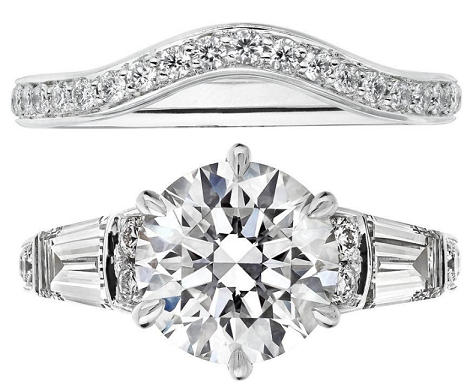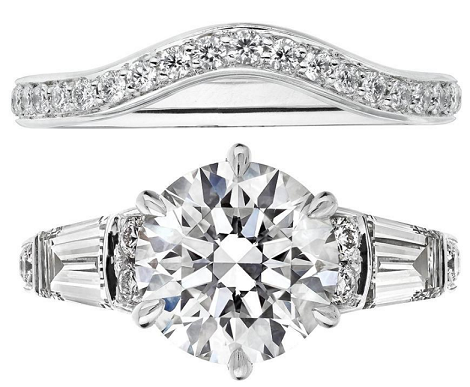 Princess Beatrice's Engagement Ring and Wedding Band designed by Shaun Leane, Image Source: Shaun Leane
Princess Beatrice's Wedding Band design signifies a break from tradition as most royal brides over the last century have opted for gold wedding bands. The Wedding Band was also designed by British jeweller Shaun Leane. Leane's stunning Platinum and diamond design fuse Victorian and Art Deco aesthetics. It also fits with the Princess's engagement ring so that the two rings sit together seamlessly. Garry Holloway is betting that it will not sit as planned and eventually it will probably be joined permanently!
GET THE RING
Good News! You can gift the one you love with an engagement ring inspired by Princess Beatrice's' for a fraction of the price. Take a look at this Diamond Solitaire Ring with Baguettes.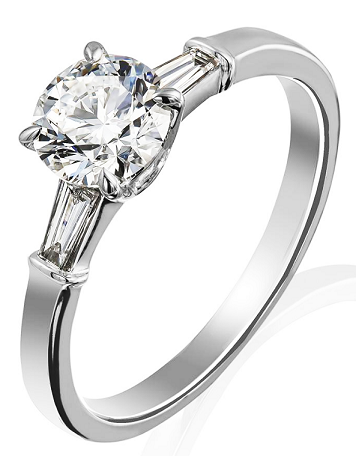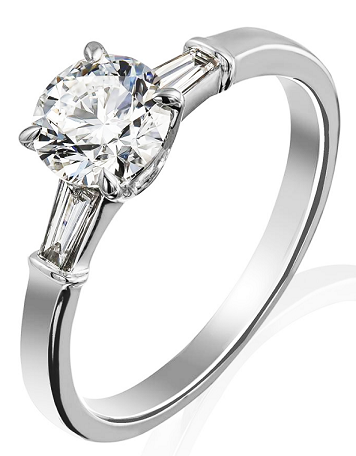 Diamond Solitaire Ring with Baguettes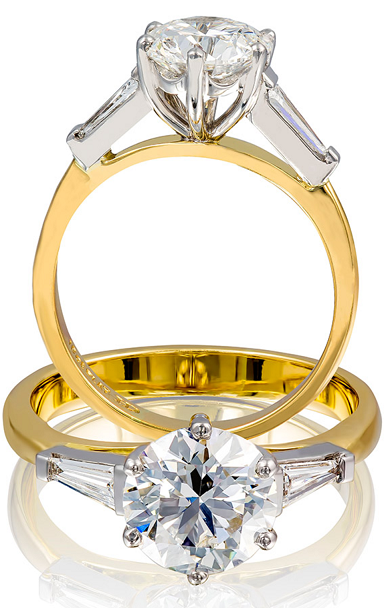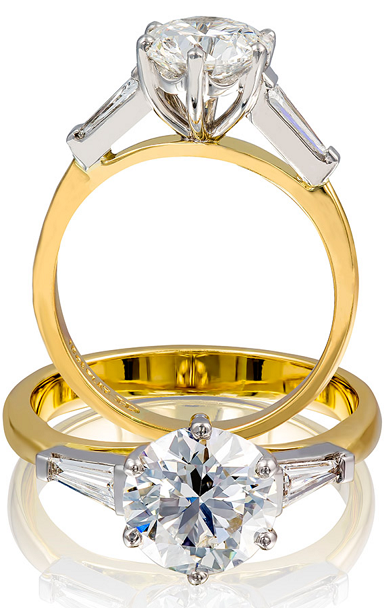 Diamond Solitaire Ring With Tapered Baguettes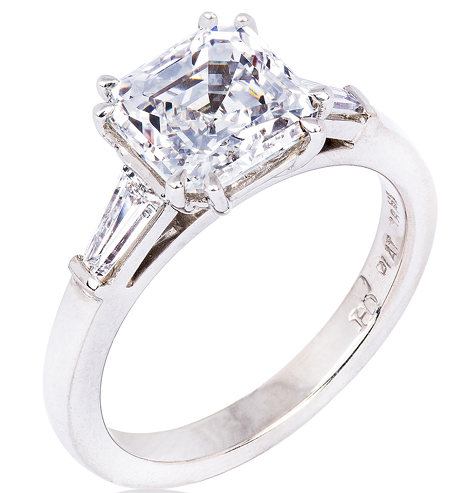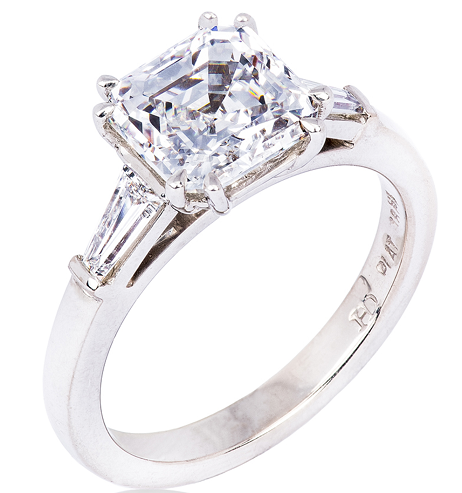 Asscher Cut 3ct Diamond Ring with Tapered Baguettes
ARCHDUCHESS OF AUSTRIA ELEONORE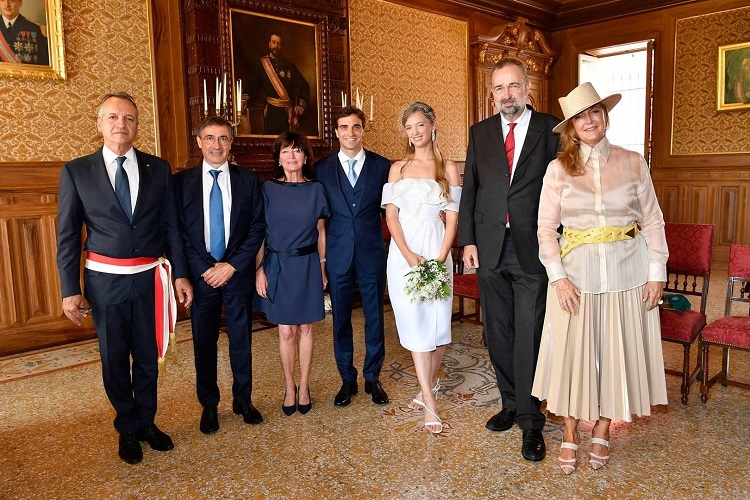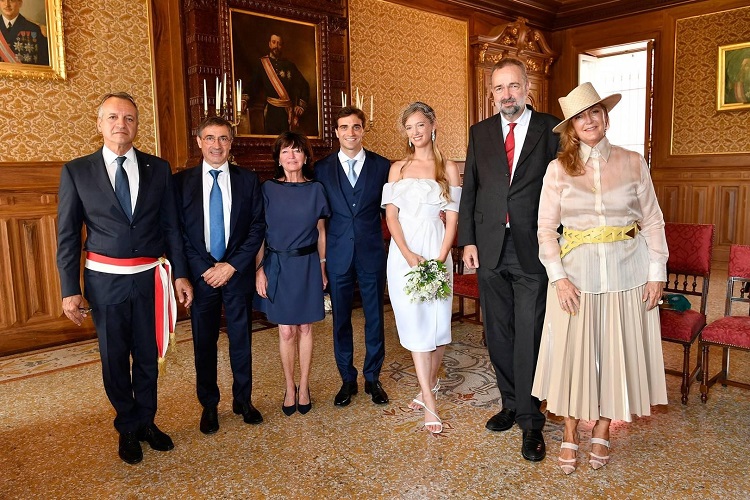 (Left to Right) Mayor of Monaco, Georges Marsan, Henri D'Ambrosio, Giselle D'Ambrosio, Jerome D'Ambrosio, Eleonore von Habsburg, Karl of Habsburg and Francesca Thyssen-Bornemisza at Archduchess of Austria Eleonore and Jérôme d'Ambrosio's Wedding, Image Source: Luc Castel- Getty Images
Last but not least, we conclude the Royal Weddings of July with the wedding of Archduchess of Austria Eleonore and Formula E Belgium race car driver, Jérôme d'Ambrosio. The couple tied the knot in a surprise small-scale ceremony on Monday, 20th July held in Monaco.
BRIDAL LOOK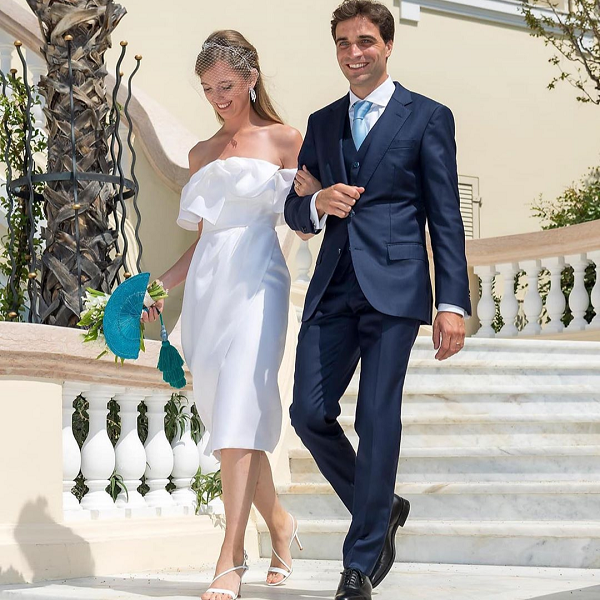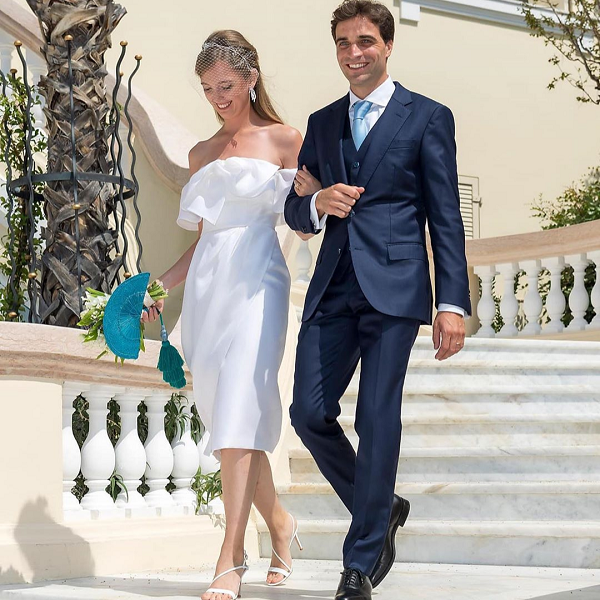 Eleonore von Habsburg and Jérôme d'Ambrosio, Image Source: Instagram- @eleonorehabsburg
Archduchess Eleonore's wedding dress was designed by highly favoured bridal designer Carolina Herrera. The Archduchess wore a white, off the shoulder dress that stopped right below her knees. The overall dress was sophisticated yet chic, fitting for the intimate affair. The Archduchess' makeup look was simply giving the bride the freedom to play up her accessories. Unlike Princess Riyah of Jordan and Princess Beatrice, the Archduchess eschewed a tiara altogether. Instead, she opted for a net fascinator designed by Stephen Jones and a small spray of flowers to adorn her hair. Other than her diamond engagement ring the only other jewellery she wore was a pair of drop earrings to her Royal wedding.
Did you know? We have a wide range of diamond jewellery to choose from.
Shop Our Collection.
THE RING
Unfortunately, in true Archduchess Eleonore form, we could not get our hands on the statistics of her engagement ring. Fortunately, we can discern that she is a fan of Yellow Gold. Photos show the engagement ring appears to be a diamond solitaire, maybe owing to a more traditional nature.
GET THE RING
Holloway Diamonds offer a host of solitaire diamond rings to suit your taste and budget.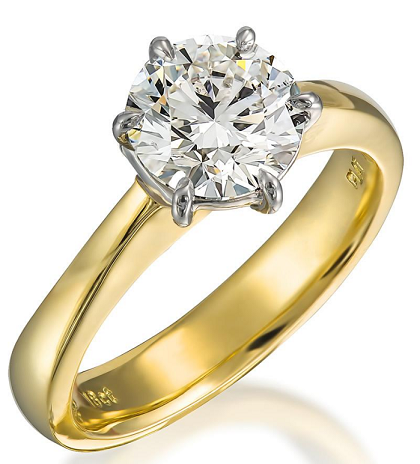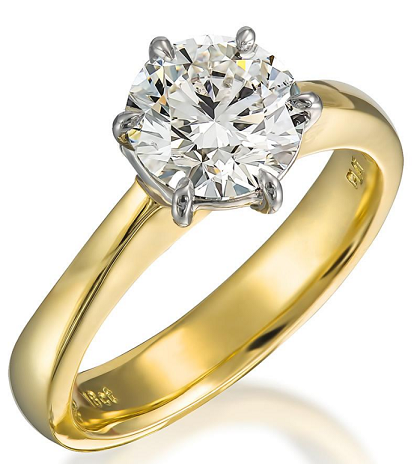 Solitaire Diamond Ring with Low Half-Rounded Profile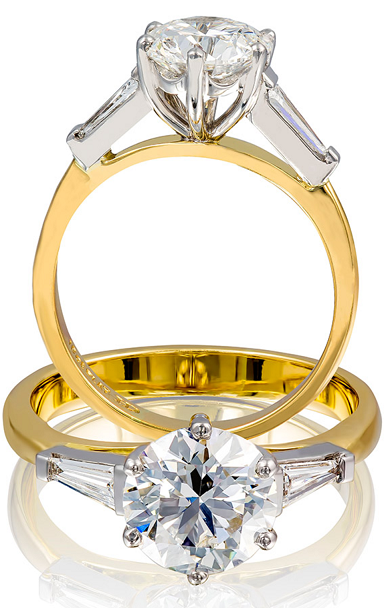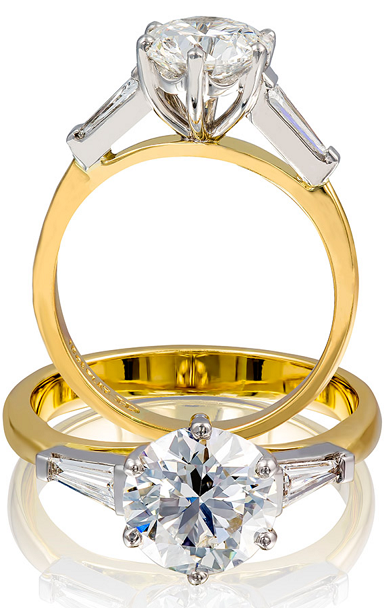 Diamond Solitaire Ring With Tapered Baguettes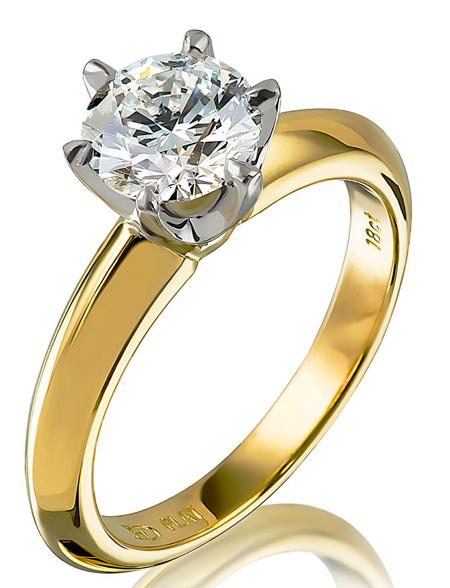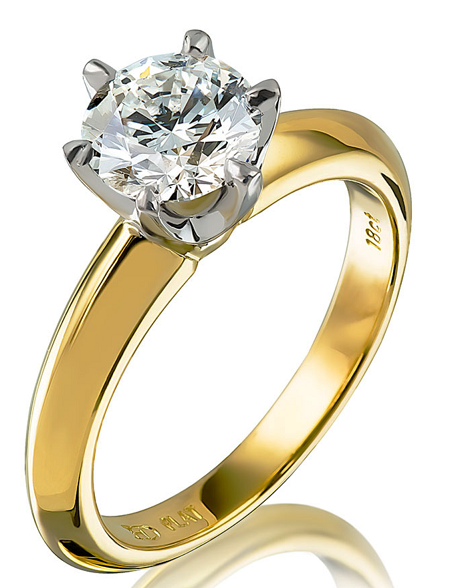 Tiffany Style 6 Claw Solitaire Engagement Ring
Did one of these Royal inspired Engagement Rings catch your eye?
Contact Us to schedule a virtual consultation today! If you would like a piece custom made – we offer bespoke Diamond and Jewellery services too.