How to style your Holloway Diamonds pieces.
Have you ever seen that person at an event dripping in jewellery and looking like a try-hard?
What is the perfect amount of bling without going overboard? Let's show you how to style your favourite pieces…
If you are off to a special occasion, one would imagine the more bling the better right? Unfortunately not. It's easy to get carried away and be covered in diamonds (obviously, who wouldn't want to be).  One of the biggest mistakes is wearing the big earrings, necklace, bracelet and all the rings. The reason this is a mistake is that it takes the focus off of the exquisite jewels you are wearing and people aren't sure where to look or if your jewels are even real. Sometimes you can make yourself look like a tryhard or a show-off. So to get it right, we have put together options for you.
Look 1 – Simple & Elegant
Now, once you know what earrings you would like to wear the rest is easy. If it's a simple stud, go crazy on the rest of your jewel.
These studs are great, they are elegantly effortless. They bring the sparkle, the fire and flashes of the diamonds without anything distracting the eye. The best part about our studs, we have also created diamond halo's that can be interchangeable for when you need the extra bling. For this look we are keeping the earrings simple, wait to see what we have styled with them.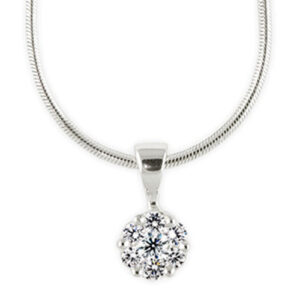 For the necklace, we have chosen a simple snake style chain and a small diamond pendant. The pendant has 7 round brilliant cut diamonds in a flower pattern. Adding a pendant similar to this one with the studs will ensure the two pieces are not taking focus from one another or fighting for glory.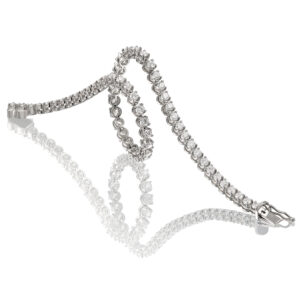 The bracelet that we have chosen for this look is the show stopper, this is the piece that will have all your friends green with envy. Sporting 56 round brilliant cut diamonds, this tennis bracelet is exquisite and the absolute real deal.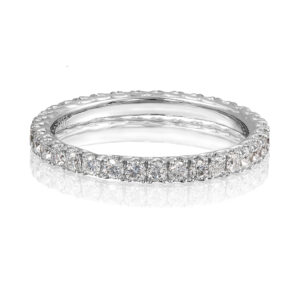 We have gone with a simple yet stunning band with diamonds circling the whole circumference of the ring. Crafted in 18 karat white gold with round brilliant cut diamonds.
The look is now complete and the pieces in Look one are not competing, rather complementing each other. This look can be worn to any occasion, wedding's birthday parties or to the supermarket. The fact is, it's subtle yet undeniably elegant. The question now is, where in Melbourne can I find these earrings, necklace, bracelet and ring. The answer is: All of these products are designed and handcrafted by Holloway Diamonds making this a unique look for your next occasion.
Look 2 – Making a Statement
The best part about Melbourne is our events can be extravagant. For this look, we are attempting to steal the show in every way possible without going overboard.
Now, again we are going to start with the earrings.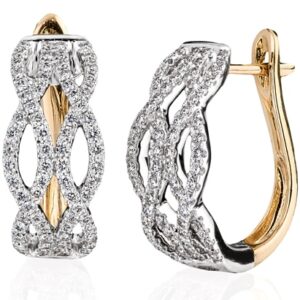 These gorgeous cross over style earrings are the perfect start, not extremely over the top but still incredibly elegant. Sporting 140 round brilliant cut diamonds, the sparkle from these earrings is everything and more!
We will skip the necklace with look 2 as the earrings are more than enough for your top section.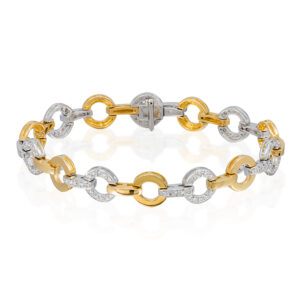 Moving now to the bracelet. We have chosen a unique to Holloway Diamonds, handcrafted 18 karat yellow and white gold circular design bracelet holding a whopping 105 round brilliant cut diamonds. The unique design is lightweight but definitely not light on the eyes. The sparkle from all 105 diamonds is almost blinding.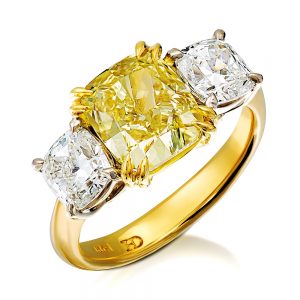 The ring we have chosen for this look is absolutely exquisite and eye-catching. A fancy yellow cushion cut diamond sitting between 2 cushion cut white diamonds. We have chosen this ring to keep in the yellow and white style we have had going since the earrings. The stunning yellow diamond will steal the show in this look, be warned, your earrings and bracelet may not get a second glance with this stunner on your finger. But, do you mind? We wouldn't.
This completes our two Looks for Melbourne Events, if you would like to see more of our suggestions let us know here
Or view our range of earrings, pendants, bracelets and rings