March Birthstone Aquamarine
The beautiful and popular March birthstone Aquamarine derives its name from the Latin word aqua, meaning water, and marina, meaning the sea. The blue hues transport your mind to the calm blue waters of a tropical island.
The colour of Aquamarines vary from blue to blue-ish greens. The more intense, darker blue hues are often found in larger stones over 5 carats, with the smaller stones appearing quite pastel blue in colour.
View more detail about our Aquamarine and Baguette Diamond Ring, featured in the video above.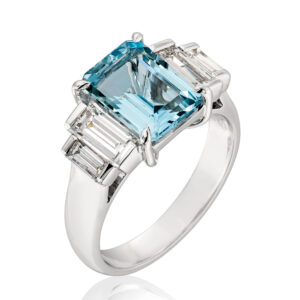 According to GIA's wedding anniversary gemstone list, Aquamarines are also the official gemstone to celebrate 19th wedding anniversaries. It is said to have a soothing, calming influence on the relationship that is conducive to re-kindling love and romance. Something that may be needed after so many anniversaries?
Our Aquamarines are flawless so they are tough enough for everyday wear. They are harder than steel and most things they can come into contact with.
Caring for the March birthstone is easy. Use very hot water, dish soap and ammonia and a toothbrush to scrub behind the birthstone where dirt can collect.  Ultrasonic cleaners (we offer all our clients a complimentary Ultrasonic Cleaner and our super cleaning solution in a child proof bottle – pop in to collect yours). Steam cleaning is safe and we have very powerful units in our two Holloway Diamond stores. But do beware if you bought an Aquamarine elsewhere and it has fractures or and some types of inclusions that can expand and break the gem.
Browse more of our Aquamarine jewellery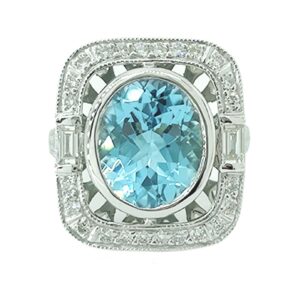 Art deco platinum 4ct with 0.70ct of diamonds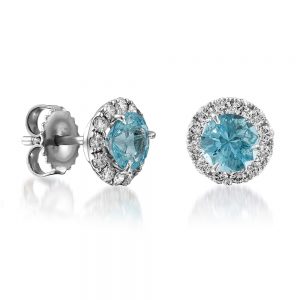 Aquamarine and Diamond Cluster Stud Earrings